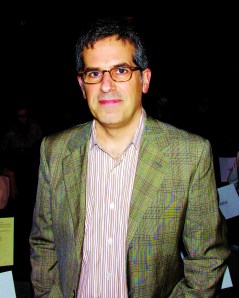 "You're not going to be graded on the language, I don't care if you comment in emoticons or Harry Potter rebus, Mugglespeak or whatever, just offer some evidence of engagement," says Cicero Lookins, the fictional "triple token" ("gay, black, and overweight") of rural Maine's Baginstock College, a Comp Lit professor doling out guidelines as to how his students ought to write in his seminar, "Disgust and Proximity." "Put your fingerprints on the thing," he commands them, demanding substance over style, politics over poetry—engagement.
In his latest novel, Jonathan Lethem—like Cicero—seems less interested in form than in content. Dissident Gardens (Doubleday, 384 pages, $27.95) spans decades, tracks a handful of protagonists, and stands as Mr. Lethem's most substantive attempt at social realism. Gone here are the Philip K. Dickian fantastical elements and formal experimentations of his earlier novels' softcore sci-fi. For his debut as a more straightforward realist, Mr. Lethem—still one of our "young writers," having turned 49 in February—has chosen an appropriately mature theme: ideas, or more accurately, ideology itself.
Mr. Lethem sets his inquisition of the successes and failures of political engagement in the twenty-first century U.S. against a backdrop with quieter revolutionary aspirations than Leningrad, Paris, or Prague: Sunnyside Gardens, Queens. The novel bounces back and forth in time—spanning from the 1930s to 2013, Mr. Lethem treats each decade democratically, distributing his narrative attention according to ability and need.
Cicero––along with his quasi-step-nephew Sergius Gogan, a Quaker-raised music teacher and Occupy Wall Street enthusiast (another "triple token," though Mr. Lethem doesn't say so)—is the orphaned heir of the entertainingly complicated Zimmer-Angrush-Gogan-Lookins family. These eccentric agitators are the heart of Dissident Gardens, serving as the novel's bastion of left-wing politics, and illustrating a microcosm of the many (and mini) revolutions of the recent past. Mr. Lethem provides this dynasty with a hard-boiled matriarch, Rose Angrush Zimmer, daughter of immigrants from the shtetl turned tiger for the Popular Front of the American Communist Party turned victim of McCarthyism. Out of the picture is her husband, Albert Zimmer, a dandyish Jewish émigré who defects to East Germany in the late 1940s. The next generation is composed of Rose's cousin Lenny Angrush, a comically angry mensch hustler and Rose and Albert's daughter, Miriam, who holds the reader's hand through the beat 1950s, the flowerchild 1960s, the burned-out 1970s, and the 1980s of Nicaraguan revolution. Miriam's husband is Tommy Gogan, an Irish-born folksinger lured to the Society of Friends by his undying (and eventually misguided) commitment to the pacifist cause. The third generation of this clan brings Dissident Gardens to the present: the incendiary Cicero, son of an NYPD lieutenant, Douglas, Rose's longtime lover, doesn't come off as the childrearing type, nor does Miriam and Tommy's son, Sergius, seem any more likely to reinvigorate the bloodline.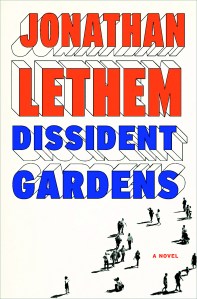 Despite the try for substance, Mr. Lethem can't help swinging into style. Mr. Lethem is well known for filling the pages of his novels with pop culture references: 2003's The Fortress of Solitude is as valuable a compendium of comic book and rock and roll trivia as it is a bildungsroman, while the narrative of his last novel, 2009's Chronic City, is often lost in the mire of the characters' conversations about Marlon Brando, John Cassavetes, the Rolling Stones, and Sandy Bull. (Fans of Chronic City, though, will doubtless be pleased by a cameo here from Perkus Tooth, that novel's irately stoned obscurantist, who briefly appears in Dissident Gardens as a Village Voice enfant terrible; his damning review of Tommy's second album marks the end of the folksinger's career). In Dissident Gardens, each character's brand of ideology––all painted in stark contrast––is defined by the cultural capital doled out by Mr. Lethem: Rose covets her first-edition volumes of Carl Sandburg's Abraham Lincoln biography even as she senilely imagines herself in an episode of Archie Bunker's Place; Miriam and Tommy are introduced by Dave Van Ronk at the home of Reverend Gary Davis; and Cicero is portrayed as avowedly post-Marxist in his familiarity with Deleuze & Guattari, his championing of the "affective turn" in the humanities, and the deftness of his references to Zooey Deschanel.
But Mr. Lethem's awareness of his location in cultural history is not merely referential. In 2011's The Ecstasy of Influence, a collection of nonfiction pieces, Mr. Lethem responds to Harold Bloom's theory of the "anxiety of influence" with an unapologetic ode to the art of plagiarism, committing the act himself in the titular essay while elsewhere joking that he considered titling the book Advertisements for Norman Mailer. Thematically, Dissident Gardens brings to mind a range of novels written by the literary giants of Mr. Lethem's father's generation: E.L. Doctorow's The Book of Daniel, as well as the later Philip Roth's American Pastoral and I Married a Communist similarly investigate Jewish-American radicalism in the wake of the revolutionary failures of the 1960s. Mr. Lethem's interest in the impact of progressive politics on race relations echoes James Baldwin's Another Country. Ultimately, though, it is Mailer's shadow which is cast the widest. His sentences clearly infected Mr. Lethem's prose. Take, for instance, Lethem's foray into tough-guy psychoanalysis as Lenny attempts to evade a gang of Irish mobsters: "Lenny accepted it, and had just enough time to flood his lungs down to his diaphragm, to his furthermost bronchioles, when he understood that his vision of Members Only and duck's asses wasn't premonitory but preconscious: mind's-eye hadn't conjured mooks but gleaned them in slantwise vision, through hair's-width apertures in the blinders of his beard." Mailer himself becomes an offstage character in the novel. The rumor of a party he is hosting at his Brooklyn Heights home provides a plot point for the would-be loss of Miriam's virginity at the prematurely sticky hands of a Columbia undergrad, not as wise in the labors of love as his tortoiseshell glasses lead her to believe.
It is perhaps because of the looming presence of Mailer, whose notorious conflations of sex and power fed the flames of the feminist mantra, "the personal is political," that Mr. Lethem is able to mount his argument—and like any resolutely political novel, Dissident Gardens has an argument, even if it is only a simple inversion. In arguing that the political is also personal, Mr. Lethem seems to suggest that even if we are not, in 2013, boycotting German-made liverwurst or marching the Pentagon, we are at the very least receiving handjobs from blonde-dreadlocked neo-hippies in rental cars, as Sergius does in the novel's final chapter. A theoryhead like Professor Lookins would be inclined to point out that Mr. Lethem's critique of leftist activism in the twentieth century and beyond closely mirrors that made by Deleuze & Guattari in Anti-Oedipus (not to mention Mailer, in "The White Negro"): that Marx, in his theory of economics, was ultimately shortsighted, having failed to account for desire.
The history of revolutionary politics in the U.S. Mr. Lethem presents to his reader is a history of ironic reversals: a novel which begins with the ultimatum, "Quit fucking black cops or get booted from the Communist Party," ends with the accused, Rose, herself accusing the Jamaican nurses in her retirement home of stealing her belongings. Nor is it any less ironic that Tommy, a Quaker convert, dies alongside the Sandinistas, waging as bloody a revolution as could be waged. Or his son, Sergius, shielded from the political life in a Pennsylvania boarding school, being brought to trial for his forebears' "sins" in the novel's Kafkaesque conclusion. We are still fighting the good fight, Mr. Lethem seems to be telling us, whether we know it or not, whether we like it or not—we, the small percentage of the ninety-nine percent who will have both the opportunity and the desire to give his ambitious new novel a read.
editorial@observer.com