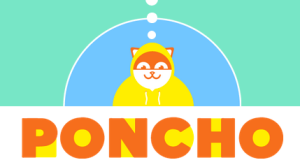 Weather apps have somehow managed to make checking something so simple so damn aggravating. It feels like an hour doesn't go by without our phones being alerted to a threat of tornadoes, and don't get us started on the Weather Chanel's scare mongering tactics. We get it, we're going to die!
So, it was a relief when Poncho, a Betaworks-created weather service, popped up last April. We're no Jim Cantore, so we don't need our eyeballs to be polluted with weather lingo when all that's necessary is knowing whether or not we need to grab a jacket or an umbrella.  The saucy weather alerts are delivered via text or email, but Poncho has quietly expanded to include more customizable features since its inception.
You can now have allergy alerts, a pet walking forecast and parking information delivered via Poncho alongside the weather. More importantly, they've added an option to change the weekend delivery time so as not to ruin your beauty rest.
Creator Kuan Huang told Betabeat that 45% of users prefer text notifications over email, and counts the service's subscribers in the several of thousands. To amp up its subscriber base, Poncho is running a contest where everyone who signs up five or more friends will receive a Poncho umbrella and be entered to win an iPhone 5C.
Since August, the Poncho team has grown significantly. Mr. Huang was originally its only full time employee, but now the service counts a developer/designer and a general manager. Poncho shares an intern with sister site Digg, and a part-time writer who crafts the texts and emails.
For now, Mr. Huang said there's no plans to expand Poncho beyond New York and he's undecided on whether to build an app (he says an improved mobile site is more important). But despite how unpredictable the weather is, he wants to improve the accuracy of the forecasts. For now, Poncho's own forecast looks sunny.