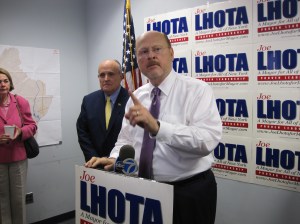 Democrat Magda Katz walked into a breakfast this morning for Republican Joe Lhota knowing little about the candidate. By the time she left, she said, she was sold.
Frustrated by the current crop of Democratic candidates, Ms. Katz–a life-long Democrat–said she was impressed by Mr. Lhota's background managing the city's finances and his efforts in the days after 9/11, which were recounted by his old boss, former Mayor Rudy Giuliani, who spoke at the breakfast.
"That did it for me," said the Upper East Side filmmaker, who told Politicker she planned to vote for Mr. Lhota in the general election this fall.
And she wasn't the only one. A surprising number of this morning's attendees said they, too, were planning to cross party lines for Mr. Lhota because they considered this year's crop of Democratic candidates–especially front-runner Bill de Blasio–too liberal, soft on crime or polarizing.
Susan B., 61, who lives in the West Village and declined to give her last name, said she'd grown "increasingly uncomfortable" with city Democrats over attempts to rein in the controversial stop-and-frisk police tactic and attempts to halt surveillance of Muslim communities.
"I think this is completely inappropriate given the world we live in and I think the Democrats have just given in too much to what is perceived as politically correct," she  explained. "We have to be prudent and I am very concerned that if de Blasio or some of the others do pop through, then the security of the city will be threatened."
Still, Susan saud she intends to vote in the Democratic primary come Tuesday, likely choosing the candidate she feels will "do the most damage" to the man she sees as the worst of the pack, Mr. de Blasio. She even entertained the idea of voting for Mr. de Blasio in a roundabout scheme to give Mr. Lhota a more lefty–and therefore more beatable–opponent in November.
In explaining her decision, Ms. Katz said she couldn't vote for City Council Speaker Christine Quinn because of her involvement in an issue at her East Side building and dismissed former Comptroller Bill Thompson as "just another politician" and Mr. de Blasio as "weak." "It's a very sad group of people running," she lamented.
Ms. Katz said she plans to vote this Tuesday–most likely for Mr. de Blasio–before switching to Mr. Lhota this fall. "It's just purely because the other candidates are much worse," she said. "I just hope that Lhota gets the nomination."
Steve Carel, 66, another longtime registered Democrat who lives on the Upper East Side, said that he, too, was frustrated by the local candidates–voicing particular disgust with ex-Gov. Eliot Spitzer, who is currently locked in a nasty battle for city comptroller. He plans on voting for Mr. Lhota this fall, but said he remained unsure about what to do Tuesday.
"People like Joe Lhota are more sincere," he said.
Mr. Lhota is the front-runner in the Republican primary, according to the polls, but faces a tough haul in the general election in a city where Democrats outnumber Republicans 6-to-1. The city has nonetheless failed to elect a Democrat in more than 20 years–giving Mr. Lhota hope that he could–if the stars line up right–emerge victorious come November.
But Mr. Lhota repeatedly dodged questions today about who he hoped would win the Democratic nomination and whether Mr. de Blasio could provide a sharper contrast with Mr. Lhota than the other Democrats.
"I'm not rooting for any Democrat. I'm really focused on winning on Tuesday," he told reporters after the Republican race's final debate this afternoon.
His spokeswoman, Jessica Proud, said via email that the campaign wasn't surprised by the cross-over support.
"New York City voters have shown time and again that when selecting their mayor, they vote for the person, not the party," she said, arguing the policies being espoused by the Democrats  "are on the wrong side of what the vast majority of New Yorkers care about: a strong economy, low crime and reforming public education. They also don't view him in the vein of a 'national Republican' given his stances on a woman's right to choose and marriage equality so that's not a factor in this election."