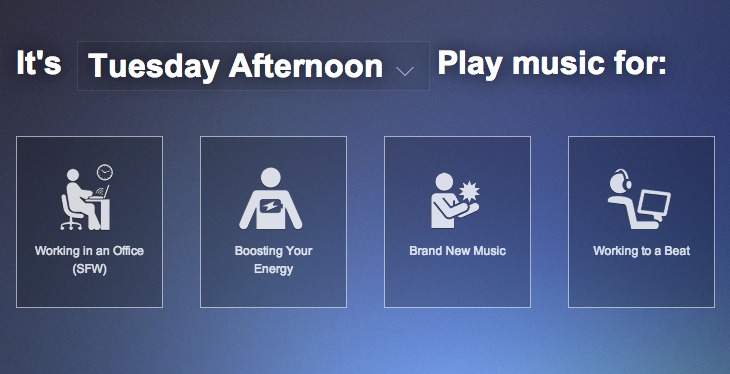 There's a little more money in Long Island City today. Songza, which offers up playlists to suit your every mood, just announced a $4.7 million round of funding from a small mob of investors, including Lerer Ventures, Amazon.com, Scooter Braun, William Morris Endeavor, Deep Fork Capital, Metamorphic Ventures, Troy Carter, Gary Vaynerchuk, and others.
The service works like so: You say what you're up to, like "working in an office," so they'll present you with some options, like maybe you want "indie music that's not too weird," which dumps you into your choice of playlists like, for instance, "songs from Apple commercials." Timely! It's a pretty neat offering for those of us so paralyzed by the choices on Spotify we always end up listening to "Whatever You Like" for the umpteenth time.
You might wonder, though, how a company that hires "music experts" to meticulously craft playlists plans to make money. (Traditionally that role has been filled, for free, by your friend who most closely resembles a character from High Fidelity.) The answer is, of course, sponsored content. 

The company's got a native advertising product called "Branded Moments," which means "brands can sponsor a life moment (working out, driving, or entertaining, for example)."  Your frantic workouts: Now sponsored literally, not just metaphorically, by Taco Bell.  They've already worked with Nissan, Samsung, Victoria's Secret PINK, and Colgate, among others. 
"With this funding, we're scaling our native advertising solution to make brand-to-customer interactions more engaging for customers and more successful for brands," said CEO Elias Roman in a statement.
Embrace the BRANDS. The BRANDS just want to love you. Why won't you love the BRANDS back? Resistance to the BRANDS is futile.