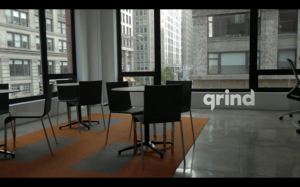 Grind's a-growin' We're wishing a happy housewarming to exclusive coworking platform Grind, which just opened its second NYC location at 39th and Broadway. The company—whose original NYC location is at 29th and Park—offers talented techies and entrepreneurs a functional, comfortable, caffeine-laced space to do their work, outside the confines of the oppressive corporate world. Grind's new space boasts 1.5 times the square footage of the original, and hopefully that much more gourmet, eco-friendly, ethically sourced coffee.
GoferNYC goes forth New startup Gofer NYC bills itself as a competitor to Taskrabbit, but with a twist. Like its counterpart, Gofer NYC connects freelancers with potential hirers, in fields as diverse as photography and web design to cooking and bartending. But wait—with Gofer NYC, there's one more step: workers who complete jobs through Gofer are given "reward bucks," which they can use to pay for online classes. They'll thereby better their skills, and become even more appealing candidates for future positions. Sounds like a pretty good cycle.
AT&T powers up As of today, New Yorkers can all get charged by AT&T—in a good way, don't worry. This morning, the company officially unveiled the product of its collaboration with the Downtown Alliance and the NYC Parks Department: a series of "Street Charge Stations," which harness the powers of the sun to recharge your phones and tablets. The stations will be available across all five boroughs, and will mean you'll never again have to lend your USB cable to that stupid coworker who forgets his iPhone charger every damn day.
Topsy's in tip-top shape Remember all those horrible first tweets you sent before you really knew how Twitter worked—all those unfunny, hashtag-laden updates on your day that you were a little uncomfortable sending out but gosh, you wanted to be a part of the Twittersphere? Now, thanks to Topsy, they're all indexed searchable! The social media search engine announced today that it's indexed every tweet in the history of time, going all the way back to Jack Dorsey's first Tweet in the spring of 2006. Looks like you'll never escape your past. Congrats!
It's that (tech) time of the month It's time again! NY Tech Meetup is hosting its monthly gathering tonight at 7p.m. in NYU's Skirball Center for the Performing Arts. The night will feature live demos from sexy startups NYC Bike Buddy, Cinematique, Learn with Homer, Locket, Magisto, Miner (we can attest this one's sweet), Placemeter, PublicStuff, Tinybop Inc., WayCount and Nudge. Plus, with all that networking opportunity, you might finally get to put your stupid, gimmicky Kickstarter resume to use.
Coding's for Squares Square—the company that made those cool little credit card readers for smartphones and tablets—today announced two new initiatives to help girls and women improve their coding skillz. The first, an eight-month, after-school High School Code Camp, will prepare San Francisco students to take the AP Computer Science exam. The second, a four-day intensive College Code Camp, will immerse college engineering students in coding workshops and mentoring programs. "Today, 18 percent of computing jobs in the U.S. are held by women," said Square CFO Sarah Friar. "We created Code Camp to encourage more women to enter careers in technology and empower a new generation of entrepreneurs."
Settin' up (photo)shop Maybe you want help designing your new startup site or snazzy business card, or maybe you just want to add a little artificial beautification to your selfie before posting it to Facebook. Either way, consider General Assembly's Introduction to Adobe Photoshop series, running on Thursdays, September 5 through 19. Session III apparently goes over something called "body toning with Liquify tool," so I don't really get how you could say no to this class.