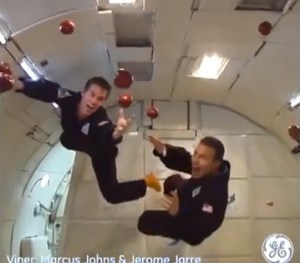 Zero gravity Vines Newton would be proud – in honor of Gravity Day, September 8, GE asked Viners to film themselves catching an apple at the top of their screen and dropping it down through the bottom. When put together, it looks like the apple falls from one video to the next as you scroll through them, ending in a zero gravity multi-apple drop. GE compiled all the #GravityDrop vines in this trippy five-minute video.
Recipes for success Cook like celebrities with People's new CelebFood app for iOS and Android. For just $0.99 you can read celebrities' personal recipes for all their favorite meals (because they're just so down-to-earth like that). With the app, you can check out recipes for Justin Timberlake's 901 PM cocktail, Mark Wahlberg's spiked milkshakes or even Al Roker's pulled pork. Then again, given Al's gastrointestinal history, you might want to prepare yourself for the repercussions of following any of his recipes.
Livefyre is branching out The online commenting platform Livefyre announced on Monday that it acquired Storify, the handy tool that turns the chaos of the Internet into a story you can actually follow. Storify promises their free profiles won't change, but Livefyre plans to incorporate Storify's VIP product into their enterprise-related services. Livefyre prides itself on creating conversations out of comments, so teaming up with the storytelling of Storify is a natural fit.
Bidding wars Apparently iPhone 5 users are already finding ways to ditch their current models in favor of the new candy colored 5C and slightly classier 5S, which were officially announced yesterday. But by Monday, eBay had already seen a 44 percent increase in iPhone 5 listings compared to this time last month. And if you're looking to get rid of yours, you can track just how much your devices are selling for on eBay with their recently introduced My Gadgets feature.
Livestream on a somewhat bigger screen Here's another knife to the heart of cable TV: Livestream announced last Wednesday that their live events streaming service is available on Roku devices, making them the first live video player for Roku. Livestream boasts 75,000 live events every month, so that means you can check out their New York Fashion Week feed, get your red carpet fix and get nerdy with TED talks and SpaceX coverage on your TV without having to pay for anything but the $50 Roku.