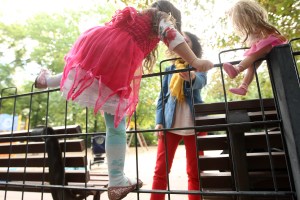 Pacifier? Check. Diapers? Check. A Kilo of Coke? Check.
Kids just need more and more stuff these days.
Following a raid on a Bronx day care center, cops discovered at least a kilo of cocaine, 1,000 Oxycodone pills and $20,000 in cash.
Investigators raided Fun World Childcare at 11:30 p.m. Wednesday after its owner Gregorio Hanley, 41, was seen dealing drugs outside the building earlier that evening.
Mr. Hanley runs the day care center with his wife Johanna Vasquez, 31. Both were arrested. The couple live in the building, which is located on Rosedale Ave. in Parkchester, with their two sons, aged 6 and 3.
Police also raided an apartment across the street that Mr. Hanley had keys to and found a further $160,000, a money counter, and a loaded 9 m.m. handgun. The firearm had been reported stolen in Pennsylvania.
Bridget Brennan, the city's special narcotics prosecutor, described the discovery of 300 grams of cocaine in a child's lunch box as "horrifying" as "kids might think is full of sugar or candy or some kind of fun thing."
Fifteen children are enrolled at the center. Following the bust, a note was apparently pasted to the front door, stating: "A family emergency occurred very late last night and I was unable to message you. Fun World will be closed today. I'm very sorry for the inconvenience."
Neighbor Spencer Jones, 19, told Daily News he was suspicious of the couple's flashy cars and renovation projects. "I was like, something is going on … There is no way a day care is making this much money."
Presumably, Eddie Murphy's people are already shopping around a new movie pitch.