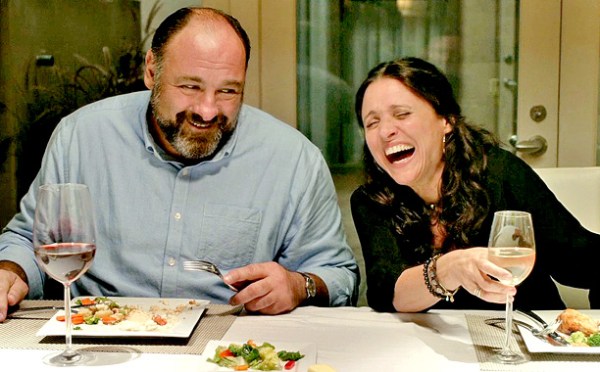 Success can be limiting. While the late James Gandolfini probably didn't mind the phenomenal long run of The Sopranos that made him rich and famous, I'm told he was glad to see it end, freeing him at last for a transition to the big screen in roles with irony, humor and charm. In the final season of an unconventional career that turned a portly, bear-like character actor into a viable, recognizable, worldwide superstar, he finally showed his charm. In Enough Said, his second-to-last feature film (there's one more in the can, waiting to get out), he's sweet, romantic and funny—qualities his friends say characterized the real James Gandolfini, more than anything in the role of Tony Soprano. Oh, and don't forget the charm. There's plenty of that to go around, too.
Written and directed by Nicole Holofcener (Lovely and Amazing), a keen observer of what makes complex contemporary relationships tick with the kind of truth that doesn't come from a laugh track, Enough Said is a movie about late starts and second chances in the lives of two people too old for proms and too young for promises. They know the "forever" word is illogical after 50, but it still sounds good. Julia Louis-Dreyfus, another popular TV series veteran whose humor has so far been limited, is Eva, a divorced masseuse and mother of a college-age daughter, who is about to face the empty-nest syndrome. One night at one of those soulless Los Angeles cocktail parties where the hors d'oeuvres are more important than the guest list, she meets agreeable, smiley-faced Albert (Gandolfini), a television archivist who also has a daughter leaving for college and an endless collection of old Ozzie and Harriet shows. He catalogues old TV shows and digitizes them. "If anyone under 50 ever wants to put down their cellphones and watch something original and brilliant," as Albert says, he's the guy to go to. He's eccentric. She's set in her ways. A romantic liaison seems possible, but, before they're halfway through their first date, they start investigating each other's defects, exchanging the kind of dialogue you only hear in the movies, and who knows where it will lead. It's that dialogue—and so much of it—that draws them together, gives them ballast and pushes them apart. She has foot problems. She can see his penis through his pajama bottoms. He annoyingly inspects her wisdom teeth and picks the chopped onions out of his guacamole. Her best friend, Sarah (Toni Collette), is encouraging, while her favorite new massage client, Marianna (Catherine Keener), is so embittered by her own ex-husband that she can't think of anything negative enough to say about the institution of marriage. Then—we saw it coming!—Eva realizes the cretin she has been bad-mouthing is actually Albert himself!
The ensuing complications fracture the lives of everyone Eva knows. The children are appalled. Albert is enraged. The point is that love can go sour at any age, if you talk too much. It can also resolve and revive with time and tenderness—plus the kind of compassion that comes with maturity and the luxury of life experience. In the early scenes, the characters make up for their awkward insecurity by speaking superficially. It's a pleasure to watch them change and grow as they become more familiar with each other. Ms. Holofcener writes with honesty and wit and directs with an abundance of feeling. Although Enough Said never really surmounts its TV sitcom style and structure, the director provides a nuanced entertainment that is enjoyable. She is aided beyond measure by the charisma of her two stars—especially Mr. Gandolfini, who reveals a side of himself we've never seen before. Shying away from nothing, he pokes fun at his weight, unhealthy diet and expanding waistline. Warm and vulnerable, he goes all out, warts and all, and even the warts are appealing.
ENOUGH SAID
WRITTEN BY: Nicole Holofcener
DIRECTED BY: Nicole Holofcener
STARRING: Julia Louis-Dreyfus, James Gandolfini and Catherine Keener
RUNNING TIME: 93 mins.
RATING: 3/4