Like the prodigal son, it is time to return to my place of origin. New York City. Over the last few months, shit has hit the fan for me in the City of Angels. The first blow: My acting agent dropped me in an impersonal form letter with the subject header: "Please see attached below! xx." In my last week, I chipped a quarter of my front tooth on a water glass, ran out of fuel on Santa Monica Boulevard, having to be pushed by five guys to the nearest gas station, and had my leased Jetta towed for unpaid parking tickets. I'd grown accustomed to throwing them in the trash so they would just "disappear."
As I step on the plane, I congratulate myself for overcoming all of the obstacles. And then I see him—Teddy Gold. He's sitting in first class with his Boss earphones and oversize hoodie.
We lock eyes, and I think my torso's gone missing.
"Julia."
He throws his arms around me, lifting me in the air but not long enough.
"Teddy." I reach for words. "You're going to N.Y.? On this plane?"
He hugs me again and says, "Yeah, I'm directing a commercial. You?"
"I'm moving back."
"Oh, wow, I'm going to miss you."
We haven't spoken in more than two months, but I believe him.
"It's not like I'm going to the moon."
"No," he says grinning. "You're gonna kill it there."
I remember I look like a raccoon. I have mascara under my eyes from crying at the terminal after missing my flight, because American Airlines tried to charge me $1,200 for five overstuffed suitcases. I shouldn't even be on this plane.
"It's going to be a new N.Y. for me. I have tools now. I've grown up."
"I think it'll be good for you. Where are you living?" he asks.
"With my parents."
We can't help but laugh.
I explain, "Just for a few months until I figure things out. They live in Soho so …"
"Hey, if my parents lived there …"
The flight attendant tells me to find my seat. I'm in the way.
I should let him initiate but blurt, "Should we try and sit next to each other?"
Teddy tenses and says, "Where are you?"
I point toward the back of the plane already knowing the answer.
He traces his index finger over his right eyebrow. "That may be kinda tough. I have to work on this storyboard and look over a pilot I'm up to direct."
"Totally. I have a lot of stuff I need to do, too."
I drag my carry-on back to coach, deflated. Teddy always had a way of building me up and then stepping out of the way just as I leaned in.
Falling back into seat 34A, I try to utilize one of my new tools, Pranic Breath. I inhale and exhale, counting to 10 each way.
Four months ago, Teddy had messaged me on Facebook after watching a short skit I had written and acted in with my girlfriend. She and I played starving artists who repeatedly got fired from ludicrous side jobs, a tale not so far from the truth. He messaged me, "You're a genius. I want to know you." No one had ever called me a genius before, but I suspected he was more interested in sex than my acting ability. Our mutual friend vouched for him, "He's a super talented director and a great guy. He wants to know if you're single."
My response, "Beyond. Why not?"
A few days later, he texted me, "I'm going to go all '90s style and call you. Just giving you a heads up, so we both don't vomit."
Teddy and I had our first date at Soho House in West Hollywood. It was late afternoon, and the sun was setting, casting a bright, orange hue across his face. I was an insecure mess, because earlier that day my acting agent had terminated my contract.
"I just feel naked without an agent."
"Do you know how many times I've been dropped by an agent? Welcome to the clique!"
I was feeling terribly sorry for myself and ranted on, "I just feel like I should be further along."
"Comparing yourself to others will kill you," and, with complete conviction, he continued, "You're blazing your own trail, and your time will come."
"Thanks, but I've been close to so many big things, and then they all just die."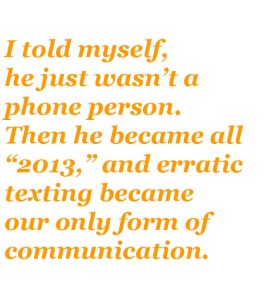 I knew I was being melodramatic, but I was enjoying his pep talk. Maybe this director could direct me in the right direction.
"That's a bullshit story," he scolded me. "I challenge you to rewrite it. I reached out to you, because I think you're talented. I don't just Facebook people like that."
"My profile picture didn't have anything to do with it?" I egged him on.
"Let's just say it didn't deter me." He winked and sipped his cappuccino.
I wanted to jump him and inhale him right there. Instead, I said, "I'm scared."
His face softened, "There is no courage without fear. You think Indiana Jones wasn't afraid when he went after the Ark of the Covenant?"
"I've never been compared to him before," I teased.
"You're the hottest Indiana Jones I've ever seen."
He leaned forward and touched the inside of my knee. I was done for.
That evening, I spent hours looking at clips of movies he directed on YouTube. I was so inspired, I just wanted to collaborate with him and create everything from TV shows to babies.
I was kept up night after night, thinking of destinations for our wedding. My appetite for him was almost tangible.
But my euphoria was soon overshadowed by a bleak reality. He would wait days to call me back, and, when he did, he was abrupt. I told myself, he just wasn't a phone person. Then he became all "2013," and erratic texting became our only form of communication. Once, he asked me what nights I was available, and, after I laid out my complete calendar, he told me my schedule was the exact negative reflection of his. I thought about moving my plans so my schedule would be a positive reflection, but my friends convinced me I was setting a poor precedent.
I was certain I saw him everywhere and used any excuse to make contact.
I texted, "Is that you on Pico Boulevard driving a gray Prius?"
"No, Julia, stop trying to mold me into your perfect man."
Maybe he was right? I was trying to turn him into someone else. Yet, the moment I would write him off, his name would accost my phone screen with a message.
Teddy and I were lost in a game of chase that would never have a winner. I thought about confronting him but refrained from doing it over the phone. And the few times I saw him, I didn't want to drive him away.
On our final rendezvous, I made out with him in his stalled Audi. I found myself in a twisted pretzel stretched across his side of the car.
"How come I'm the one on your lap?" I whispered.
"Once I get out of my seat, I won't be able to control myself."
Is that what he was afraid of? My hand found its way to his heart and stayed there all the way through second base.
After three-and-a-half hours, with breaks only for air, he told me, "Sometimes, I'm in my head, but tonight all I've thought about is the task at hand. This is what it must feel like to meditate."
"It's exactly what it feels like!" I beamed.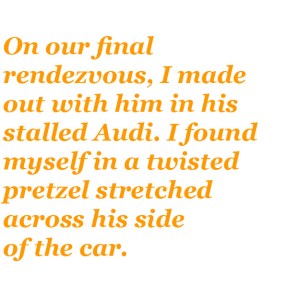 He added, "Next time, we have to at least move into the backseat."
Teddy and I tried to see each other again, but we both got in the way. We danced the dance of disinterest until we lost each other.
My Romeo now sits in the front of the plane with all of his legroom. I'm dying to see him but find myself in the bathroom instead. The light is harsh, and I study the little bumps on my skin. Up close, there is so much to purge. I take two pieces of tissue and squeeze but stop when I see the red marks. I turn to my bloated stomach, most probably caused by the two tomato juices I drank back to back. And I haven't waxed since I saw him last, even though we never even went that far. I'm wild and unruly and angry.
I think of that time in his car when we had joked about our creepy neighbors who could see into our apartments and hear everything. He said, "You know how some women have rape fantasies? Well, I've gotten into the habit of cupping a woman's mouth but not for the reason she thinks. It's so my neighbor doesn't complain about noise in the morning."
I want him to cup my mouth.
I imagine I'm in his bedroom. My heart is a sharp hook ready to dig in. I take off my clothes, and he watches. I know I've got him. It's all in his eyes.
'You're sexy," he tells me. 
I lay back on his bed, drenched in sunlight. He goes down on me while I grab his hair and stroke his eyelashes. He looks up and smiles. But as I try to pull him into me so we can be intimate, he breaks free and stands by the side of the bed. I reach for him, but he retreats and starts to masturbate. My chest feels hollow, but I'm turned on and almost there. He finishes and walks away without looking back. As I climax, I realize I'm crying.
I change the fantasy. I need him to be kind. I need him to be gentle. I need him to be there. I hold him close, only to find that I'm the one whispering, "I love you, Teddy. I love you." 
I'm back in my seat. I feel dirty and slimy, and I hate him.
I look out the window over my fading past. We're above a field of clouds. Maybe we really are on our way to the moon. I open and close the palms of my hands that are patterned with intersecting lines. Some would say my future is written on them. I wonder where these lines will lead me.
I search for Teddy at the gate, but he didn't wait for me. Maybe that would have been too obvious. I'm feeling shy now, embarrassed like he knows what happened up in the air. I assume we'll at least say goodbye at baggage claim, but he's not there either.
I see my parents. My father looks thinner. My mother looks the same. They hug me.
Later, just past midnight and my parents asleep, I lie back on the hardwood floors of my childhood bedroom and study the white, engraved ceiling. The pattern resembles rows of connected fish or infinity signs, joined by bow ties. On a plywood shelf above the door, my eyes settle on a red dollhouse my father made from a kit. Most of the white windowpanes have fallen off, and the porch staircase is dilapidated, but the house is still beautiful. I stand on a chair and peek in. A plastic Lassie rests in front of the fireplace, and a family of four sleeps in their beds. It's exactly how I left it.
I hear my phone and climb off my perch to receive a text from Teddy.
He writes, "Julia, we're due for a catch-up, yes?"
I wonder what decisions she will make.
Smiling, I can't help myself and reply, "If you meet me on the moon."