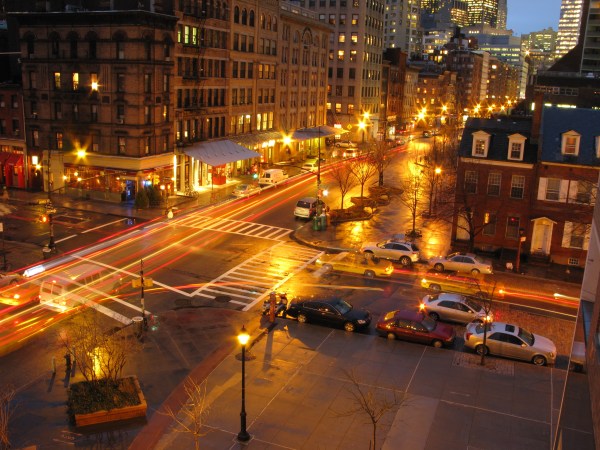 George Clooney. Gwyneth Paltrow. Justin Timberlake. Jay Z.
Considering the number of celebrities that inhabit Tribeca today, you'd never know that, a century ago, the neighborhood was nothing more than a cotton and textile manufacturing district.
The industrial trade of the late 19th and early 20th century lined its cobblestone streets with warehouses and factories. Industrial activity declined within the city over the years, leaving large warehouses empty, and gave rise to an artistic movement in the 1960s and 1970s, when endless open and sun-drenched lofts were available for studio spaces and galleries. And then Manhattan's real estate market, traditionally prizing buildings along Park Avenue and Fifth Avenue, shifted to the downtown neighborhoods. The downtown market offered cheaper land as well as development possibilities that were otherwise limited in the uptown markets. Tribeca, geographically bound vertically by Canal Street and Vesey Street, and horizontally by Broadway and West Street, began to attract developers.
Over the last twenty-five years, reinvented Tribeca has etched its name on the list of Manhattan's most expensive zip codes. The neighborhood's rich industrial and artistic history is held dearly and delicately as developers hone the wood and stone elements and large windows of factories. Tribeca is now a dichotomy of the past and the present, the industrial and the residential, and the grit and the luxury. Here's your essential guide to navigating what has become Manhattan's trendiest district:
Go East!: 
The western side of Tribeca, spanning from West Broadway to the Hudson River, was the first to develop, as the properties offered unobstructed views of the river thanks to building height restrictions. Developers are now looking eastward and taking interest in property along Broadway and Church Street.
"With condo rental prices in the western half of Tribeca reaching record levels and new development sites in short supply, residential developers have increasingly been drawn to Tribeca's eastern boundaries," said Richard Cantor, principal of Cantor-Pecorella, the sales and marketing team behind Franklin Place.
"Activity is now moving east, where the same assets are in place—historic architecture, lofty living spaces, and the allure of a Tribeca address—but potential has not yet been fully realized," said Karen Mansour, executive vice president of Douglas Elliman Development Marketing.
Say "Hello" to Khe-Yo:
One of the latest restaurants to open in the Tribeca market, Khe-Yo is shifting fine dining slightly eastward, acknowledging the greater trend of the residential shift.
Your New Best Friend Is Leonard: 
This development, located at 101 Leonard Street, is a reinvented neoclassical pre-war building with high ceilings and a solid brick and limestone façade comprising 66 one-, two-, and three-bedroom loft spaces. Availability is tight with only a handful of apartments remaining for sale, including a 2,837-square-foot penthouse.
"101 Leonard Street has set the benchmark for where refitted and existing-structure developments will go in terms of price, size, and quality," says Kane Manera, a salesperson at Douglas Elliman. "These east Tribeca developments provide a gateway into the neighborhood without the higher prices per square foot.
It'll Make You Feel Whole: 
The Leonard development is a short ten-minute walk away from the Whole Foods in Tribeca, which offers its famous Wellness Club, a venture that highlights a healthy and practical lifestyle. Juice Press is also looking to open a location within the vicinity to appeal to a similar demographic.
There's Black Cod Next Door: 
Drew Nieporent is also taking the dive with his latest restaurant, Nobu Next Door, offering a Nobu spin on brunch serving bagels with lox, as well as Nobu's staple black cod with miso.
You May Also Like Franklin:
At 5 Franklin Place, all but five of the 53-condo units were in contract for prices over $1,800 per square foot. Among the remaining units are two penthouses, 2,598 square feet and 3,241 square feet, selling upward of $2,700 per square foot.
"A lot of these developments are already selling out at record-setting prices per square foot," says Ryan Serhant, a broker at Nest Seekers and a cast member of Bravo's Million Dollar Listing New York. "The addition of all these new developments will only add to the neighborhood's desirability, while simultaneously juxtaposing its timeless serenity with a wave of contemporary innovation."