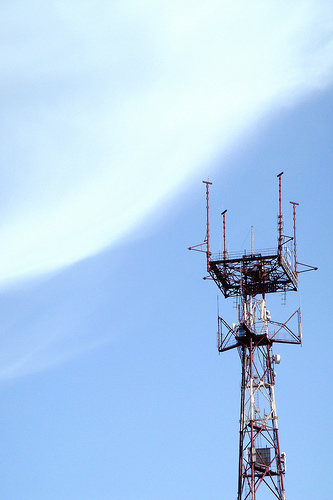 Here's a good one if you like to start your morning with a good case of the shivers: According to the Omaha World-Herald, there is a local radio station blasting midcentury easy listening classics over the high plains. The funny thing is, it doesn't have commercials or DJs, and the FCC can't seem to find the station's physical location, or its owner.
Spooky!
The station's truly busted website bills itself as "Omaha's Place to relax," and promises "timeless and relaxing music" by artists like Frank Sinatra, Barbra, Rod Steward, and Michael Buble. Plus, on Saturday nights, you can catch a big band show. (Wouldn't want to miss that.)
But according to the World-Herald, FCC investigators couldn't track down the KOMJ's actual physical location, and they couldn't find the public file all stations are supposed to make available, either.
This presents all sorts of opportunities for flights of conspiracy-themed fantasy. Time-travel? Government brainwashing experiment? Noted Nebraskan Warren Buffet?
But we're not exactly dealing with UVB-76, here. The bottom of the station's fugly website says the station's owned by Cochise Broadcasting, a mysterious entity which, Tuscon Weekly reports, is run by one Ted Tucker. (Redditors say the Magic 1490 site is also registered to someone with that name) He's a former hospital pharmacist who apparently "spends his time buying radio stations in out-of-the-way places, rehabbing them and, in some cases, selling them for a ton of cash," which it looks like he's doing here.
What's more, this crotchety blogger says after about 20 minutes of legwork he was able to get Mr. Tucker on the phone. He said the station operates out of Omaha's Journal Broadcasting and isn't much more than "an automation computer, a good Internet connection to program syndicator Westwood Oneformerly Dial Global) and a studio-transmitter link."
Now, FCC employees did go to Journal Broadcasting–who originally owned KOMJ–and, according to FCC documents, "The staff for the Journal Broadcast Group stations stated that Station KOMJ's main studio was not located at 10714 Mockingbird Dr. and that no one associated with Station KOMJ worked at the location." Mr. Tucker insisted they've got the public file, though.
Now, it's theoretically possible that we're dealing with some vast conspiracy, but it seems this mystery is mostly a case of poorly kept paperwork. Omaha's Magic 1490 isn't that much weirder than any other AM radio station that hasn't been purchased and standardized by Cumulus or some other conglomerate.
To be fair, though, that's still pretty weird.