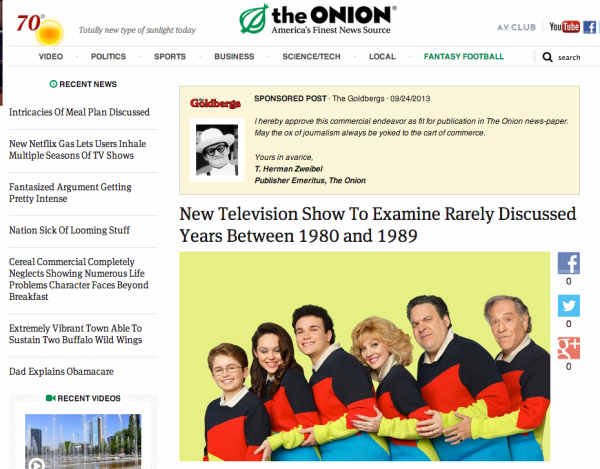 You may have read this on a website today: The Goldbergs is a new sitcom about Jews in the 1980s that premieres tonight.
The ABC show is making a play for millennials by sponsoring content on sites that are popular with that target demographic.
"13 '80s Problems That Parents Just Don't Understand," read the headline of a post on BuzzFeed this afternoon.
"They may be illin', but whether you like it or not, they're still your parents. Get the whole gang together for a family-sized trip down memory lane with Beverly, Murray, and the rest of The Goldbergs, which totally premieres Tuesday Sept. 24th on ABC," explained the subhead by BuzzFeed Partner The Goldbergs.
Naturally, the list was illustrated with GIFs (and a trailer at the end).
"New Television Show To Examine Rarely Discussed Years Between 1980 and 1989," said a headline of a post on The Onion, with the lede: "According to sources, ABC's new family comedy The Goldbergs is ambitiously aiming to somehow bring the oft-forgotten, seldom referenced decade of the 1980s, in which the series is set, back into the zeitgeist."
The Onion noted that the post was sponsored with a banner and note:
I hereby approve this commercial endeavor as fit for publication in The Onion news-paper. May the ox of journalism always be yoked to the cart of commerce.

Yours in avarice,
T. Herman Zweibel
Publisher Emeritus, The Onion
Meanwhile, the straightforward sponsored post on The Awl was mostly ad copy and a trailer. Understated.
Well, whoever wrote the posts for the marketing team behind The Goldbergs certainly seemed to nail the tone of the publications.