The brownstone at 272 Berkeley Place,  renovated by the late Evelyn and Everett Ortner, champions of Park Slope and the couple who set off the neighborhood's and the borough's revival, is now up for sale, as reported by Brownstoner earlier today. It is, in many respects, the brownstone that is responsible for Brooklyn as we know it, a borough of lifestyle gurus and movie stars, of precious parenting and farm-to-table restaurants and "laid-back" types who wear $300 clogs and sip $9 juices.
The Ortners moved into the brownstone in 1963—when most other middle-class residents were fleeing the city—and not only restored it, but proselytized about the the experience, extolling the joy and beauty of brownstone living. Mr. Ortner died in May of this year and Ms. Ortner predeceased him; they left no immediate relatives.
Besides enthusing about brownstone renovations and sharing their expertise, the Ortners started a "back to the city" conference,  helped others negotiate the problem of securing mortgages for properties in devalued neighborhoods and were largely responsible for the landmarking of the Park Slope Historic District, according to Mr. Ortner's The New York Times obituary.
The house, which is listed with Vandenberg, still bears the mark of their loving restoration. Photos show the gleaming mahogany woodwork, the paper-mache and linseed-oil wallpaper, a museum-quality period parlour with speaking tubes and the home's original (!) heating system.
It's too bad that the buyer will almost certainly undertake a massive renovation. Because, for all its old-fashioned charm and beauty, the Ortners' brownstone is no longer emblematic of the movement that they helped to launch—it's far too fusty, far too middle class for the buyer in the market for a $5 million brownstone.
Perversely, but also fittingly, the house that kicked off Park Slope's revival and subsequent gentrification is not gentrified enough for modern-day Park Slope. It is a misalignment that the Houlton sisters, who grew up in another house that famously catalyzed a neighborhood's revitalization, understood well. After inheriting the Upper West Side brownstone that their middle-class parents painstakingly restored in the 1970s, they took out a mortgage and did another renovation, transforming their middle-class childhood home into a luxury brownstone rental that brought them $14,000 a month in rental income.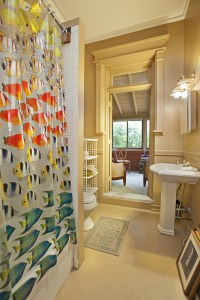 Given that the Ortner's house is asking $4.8 million—they bought it for $32,500—it seems safe to assume that its new owners will want the kind of brownstone we see in shelter magazines and The Times' home and garden section. They will want something sleek, something elegant, something that screams luxury. They will want Viking appliances in the "chef's kitchen," and a state-of-the-art heating and cooling system with climate controls in every room. They will want his-and-her dressing rooms and a master bath with double sinks and a steam shower with separate bathtub and marble, marble everywhere. They will want sound systems and lighting systems and security systems and entertainment systems and all the brand names that announce one has arrived. They will want a house befitting the rich, dazzlingly successful people who they are.
The Ortner's house looks like what it was—a beautifully-restored townhouse where a middle class professional would live (when he was not cheerleading for brownstone preservation, Mr. Ortner was an editor at Popular Science magazine). But the era in which middle class professionals bought Park Slope townhouses has passed. 
As Mr. Ortner once said: "Never again, never again, never again will houses of this quality be built for the middle class of the city." Soon, never again, never again, never again will the middle class of the city live in them.