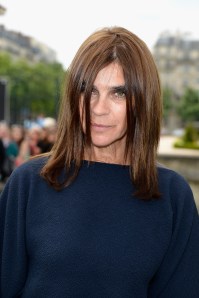 Carine Roitfeld is wearing denim.
We're sitting in an office across from Bloomingdale's in Midtown, and the decade-long Vogue Paris editor in chief—she left that post in 2011—is perfectly composed, her tan hands crossed gracefully in her lap. And yet she is wearing denim. It's a more casual look than one might expect from the Parisian vamp, 58, best known for black ensembles, high-slitted pencil skirts and towering stilettos, all of which conspire to make her seem like a Lower East Side seductress. Sultry. Decadent. Dusky. Unapproachable. Not the sort of person who would wear denim, even to do gardening. Not that she would garden.
To be fair, the denim is a skirt by Miu Miu—an offshoot of Prada—and it's paired with Celine sandals, which Ms. Roitfeld claims she's wearing "because I broke my foot." "It's this or a cane!" she declares. As for the rest of her outfit, she's draped in "this kind of grungy sweater, because it is supposed to be summer."
She does not look grungy.
Despite her apparent attempt to prove she's down to earth, there's no denying that Ms. Roitfeld, who was recently appointed Harper's Bazaar's first-ever global fashion director and has been the longtime muse of folks like Tom Ford, is of another world. This, after all, is the woman who was scouted to be a model at 18, just walking down the street; a woman who, later, as an editor for Vogue, brought overt sexuality to the fashion pages; and a woman who is now the subject of a new feature-length documentary, Mademoiselle C. The film, which opens in select cities next week, chronicles Ms. Roitfeld's year after leaving Vogue Paris, during which time she founded CR Fashion Book, a biannual magazine of style, and, on the personal front, became a grandmother.
The transition has not been smooth. Though Ms. Roitfeld feels it is in poor taste to disparage a company "you spent 10 years of your life with," Condé Nast has reportedly been at war with its former editrix. The New York Post wrote that "Condé's International chairman Jonathan Newhouse has been ordering photographers and editors not to work with Roitfeld for her new magazine"—though that didn't stop Bruce Webber from shooting Kate Upton for the inaugural issue.
Ms. Roitfeld seems to exude an almost hypnotic power to make people do what she wants, and the film is studded not only with celebrity photographers and models but also famous friends you might not typically expect to see on camera.
"They respect me," she says. "But you know, they hate to be filmed. Riccardo [Tisci], my God, he hates it. Tom Ford, he doesn't want to talk. Karl Lagerfeld is easier."
Ms. Roitfeld insists she didn't participate in the film to prove she's one of the most respected figures in fashion, though. She did it because she says she wants to make fashion seem fun, and there are very few films that capture the industry as she knows it. (One of her favorites is 1966's Qui êtes-vous [Who Are You], Polly Maggoo?).
"I think this will be an iconic film for fashion. I hope no one will feel betrayed," she says. "It's fun. It's the way we are."
'Fun' is one word for Ms. Roitfeld. 'Irreverent' is another. Consider that she once showed up to her son Vladimir's art opening swathed in black lace and no pants, or the aura of openness she cultivates from those even beyond her family. Her makeup artist jokes that when he was upset with Ms. Roitfeld he wished she be reincarnated as herself but with fat ankles—to which she laughed.
"They're not prudish," Fabien Constant, the director of Mademoiselle C., says, adding that he believes the film will make people fall in love with his subject. "She's kind and nice and approachable," he continues. "She's not this black widow you can think she is when you see her in pictures, because of those dark eyes and that messy hair. She's a woman before she's a fashion editor."
***
Though "fun" may not be a word many would use to describe Anna Wintour, Mademoiselle C. has already begun to draw comparisons with 2009's The September Issue, which chronicled Ms. Wintour's work at Vogue.
Then again, people were already apt to compare the two editors in chief. The film The Devil Wears Prada even suggested that the editor of the fictional French Runway was attempting to steal the icy American editor's job. Likewise, in 2008, it was rumored that Ms. Roitfeld was slated to replace Ms. Wintour at Vogue.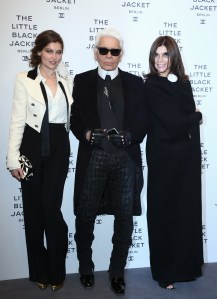 Ms. Roitfeld dismissed the rumor at the time, saying that she was very French and "in America, they're not even allowed to show a hint of nipple in photos." (It's true that you see far less nudity in Ms. Wintour's Vogue than you did in Ms. Roitfeld's.) And she insists, to this day, that the two enjoyed a pleasant working relationship, despite Mr. Constant's assertion that the women are "complete opposites" and that Ms. Roitfeld is a more "normal person" than Ms. Wintour, whom he thinks of as "an excellent politician."
Ms. Roitfeld doesn't disagree. "I'm a fashion editor," she says. "Anna is not a fashion editor."
So maybe they never sat around braiding one another's hair, but Ms. Rotifeld maintains that she has a great deal of respect for Ms. Wintour. "We are so different," she says. "She's a hard worker, but she's very honest, and I like that. If I did a story for her and she didn't like it, she'd pick up the phone and say, 'Carine, I'm sorry, I don't like the story.' This I like. She's not sneaky at all."
And like Ms. Wintour, Ms. Roitfeld has a way of making headlines. During her time at Vogue Paris, she courted controversy in a way that seemed almost gleeful. Like the time she styled little girls in couture and heavy makeup—a shoot that was roundly criticized. Feministing.org declared, "This isn't edgy. It's inappropriate and creepy, and I never want to see a 9-year-old in high-heeled leopard-print bedroom slippers ever again." Then there was the time she featured pregnant women smoking and the time the magazine did a shoot with supermodel Crystal Renn as the victim of bad plastic surgery. Her editorials often had an impish quality that led many to believe she just liked to incite a response.
In the past, Ms. Roitfeld has admitted she enjoys the role of provocateur, but she claims that, on the whole, her work has been good for women.
"I was one of the first to dedicate an issue to a black girl. I push plus-size women. I think they're beautiful," she says, conceding that it is possible controversy will follow wherever she goes. "Now I'm using very old ladies, and I think they're beautiful. I think beauty can be everywhere."
Still, one might question how that supposed woman-positive view manifests in shoots like the one of supermodel Karen Elson tied up in curtain cord.
"I've never shown a woman where she seemed not tough," Ms. Roitfeld says. "I think she decides what she wants to do. She's stronger. You see that with Helmut Newton and Yves Saint Laurent. The women may show their breasts, but they have their hands in their pockets. They have a very strong attitude. This is what I like. O.K., you can show everything, but you don't have to suffer for it. You have a choice. When I do bondage, the woman looks strong. She doesn't look like a poor miserable person."
In some ways, Ms. Roitfeld represents a prototype of the strong, modern, glass-ceiling-shattering woman, and yet she still cringes, almost imperceptibly, when one uses the word "feminist."
"I love that someone pays the check when I go to the restaurant, and I love when someone opens the door and says, 'You look beautiful tonight.' I'm very feminine," she says. "But I am a feminist in the way that I love that women can have the same jobs [as men]. I want more women to run countries. There'd be more peace on Earth."
***
Ms. Roitfeld admits she has had children on the mind of late. The first issue of CR Fashion Book, for instance, was themed around rebirth, which didn't just refer to her own career, but also to her daughter, Julia, who literally gave birth to a baby girl. Though it may sound cheesy to use babies in a fashion magazine, don't worry. It's all done in Ms. Roitfeld's signature insouciant manner. Which is to say, there's a Rosemary's Baby-themed shoot that features female nudity in a graveyard.
Just don't call it sexy.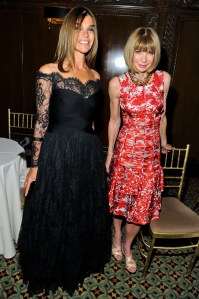 "To be sexy 20 years ago is totally different than to be sexy today," Ms. Roitfeld says. "Sexy now, to me, it is a bit beefy. Do you say 'beefy' in America? It means to show too much skin. I don't like this. We are more mental sexy. You can be covered and be very sexy. It's not what you show, it's what you have in mind, the way you cross your legs, the way you talk to people. 'Sexy' is not a nice word."
This may come as a surprising assertion from a woman who has been called the Queen of Porno-chic, a label Ms. Roitfeld rejects as misleading. She prefers the term "erotic-chic."
"It's very sweet," she explains. "Porno, you show everything. Erotic, you are dreaming about something, about another world. I know porno-chic is nicer to say—it's quicker—but I prefer erotic-chic. I try not to show everything."
On one hand, that's a more nuanced perspective than one might expect from a woman who was upset by American Vogue's sparse portrayal of nipples. On the other hand, Ms. Roitfeld's life seems very sweet right now. After we say our farewells, for example, she says she will hit NYC's high-end retailers, as usual, but with a different mission in mind.
"I am shopping for my granddaughter," she smiles, adding that she hopes to find the infant girl just the "right thing" from Tom Ford Baby. Whether that "right thing" is leopard-print heels, only time will tell.