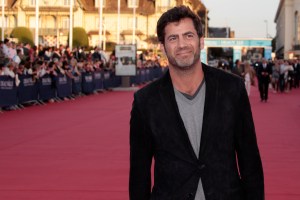 So tell me, how do I know this toast is really seasonal?" director David M. Rosenthal teased the pretty waitress who has come to take our order at the Gallow Green, pointing to a menu option. "Like, is it in season? Is toast ever out of season?" Our waitress blushed and giggled, and not without cause: Mr. Rosenthal, 44, is a handsome man, with the kind of jocular intensity that is rarely found outside the sunny confines of California, and certainly not in New York, not even in the summer, and especially not at a bar specifically chosen for its moody, slightly creepy ambiance (Gallow Green sits atop the McKittrick Hotel and is associated with the ongoing "immersive theater" production Sleep No More), the better to discuss the director's moody, slightly creepy film, A Single Shot.
A Single Shot, which Tribeca and Well Go Films are releasing on Sept. 20, stars Sam Rockwell as an Appalachian poacher who unwittingly commits a murder in the woods. In trying to discover his victim's identity, he stumbles into a bunch of money and even more trouble. Adapted from a 1996 novel by Matthew F. Jones, A Single Shot is A Simple Plan meets Badlands, but with less coherent dialogue. Time Out New York saw the first screening of A Single Shot at Berlin International Film Festival back in February and declared it "white-trash noir." It was meant as a compliment.
But Mr. Rosenthal is no gnarled, Clint Eastwood figure, verbose as a sleep-deprived Cormac McCarthy. He has a boxer's build, with dark hair and hazel eyes, and looks like the lead in a cop procedural. At Gallow Green, he launched into his dietary restrictions: "a vegetarian who's allergic to wheat, dairy, eggs and alcohol."
"Just kidding," he broke a boyish grin. "Let's get the meat platter."
The road that led Mr. Rosenthal to direct a tense, gritty indie is even more unexpected than his movie star good looks and easy-going demeanor. The New York City native grew up the son of Dr. Mitchell S. Rosenthal, the founder and chair member of the Phoenix House, a chain of nonprofit drug rehab centers. Boarding school kept him out of the city, but he never strayed too far: While getting a master's in poetry from Sarah Lawrence College, he had his verses published in The Paris Review and wrote a book of poems before going back to school for yet another MFA, this time in filmmaking at the American Film Institute.
As a filmmaker, he has been critically lauded since his first short horror sci-fi film, 1999's Absence, which snagged six festival awards before being picked up for distribution for PBS, Encore and Starz (among others). His 2002 documentary, Dylan's Run, followed politician Dylan Glenn, who sought to be the first black, Republican man to win a  congressional seat in the Deep South since Reconstruction. Touring the festival circuit, the movie earned praise from Variety and other outlets before getting scooped up by Reelz.
In 2006, Mr. Rosenthal directed his first full-length narrative feature, See This Movie, starring Seth Meyers and John Cho. It premiered at the Aspen Comedy Festival and won the Grand Jury Award for Best Narrative Feature at the Malibu Film Festival and was never heard from again.
Then in 2010, Mr. Rosenthal tackled his hardest subject yet: Janie Jones. The movie, starring Abigail Breslin and Alessandro Nivola, is a fictional account of Mr. Rosenthal's meeting his daughter for the first time. She was 13; he was 30. He knew he had a daughter somewhere, but, as he told The Observer, "Her mother wanted to raise her by herself, and I was just a kid." When his daughter sought him out, it was a life-changing experience for both of them. In the film, some liberties were taken: Mr. Rosenthal wasn't an alcoholic road musician when he first met his daughter, now 25. Her mother was not a meth addict. Still, the film's raw performances, which included original music from Gemma Hayes and Eef Barzelay performed by the two main characters, earned Janie Jones rave reviews.
Despite his indie darling status, Mr. Rosenthal was not the initial filmmaker hired for A Single Shot; he was sent the script after deals fell through with both the film's lead, Michael Fassbender, and David Jacobson, a director most famous for Dahmer (2002).
"It sparked something very mythical for me," Mr. Rosenthal said of the script. "This poor farmer-hunter named John Moon in the dark woods one morning, facing his demons. He's making these choices and failing badly at choosing. There's something classical that hit me immediately."
The language was also a big draw; there is a lyricism in the Appalachian twang of Moon and those who inhabit his world.
"There's a lot of poetry to be found in the world in which these stories take place," Jeffrey Wright, who plays Simon, the local souse, told The Observer. "They're relatively depressed areas, so people find riches in the language that they use. You often find that in cultures: individuals who don't have much tend to craft what they have into something greater than the sum of its parts, if you will."
Mr. Rosenthal loves films like There Will Be Blood and The Master by P.T. Anderson and anything by Hitchcock and the Coen brothers (who get several nods in Shot, most noticeably in the casting of William H. Macy as a hustling lawyer in a toupee) and can talk as animatedly about David Lynch or Orson Welles as any cinephile.
"Some of [A Single Shot] is hard to understand because of the dialects," Mr. Rockwell told The Observer, sitting in an office at Tribeca Film's headquarters on Greenwich, his giant dog, Sadie, taking up half the room.
"I kinda don't care, because it really is a visual story. It could almost be a silent movie. So I know some people are annoyed by that, but I kinda like that they barely open their mouths. That's how some of these people talk."
Besides Mr. Macy, who had stayed on from the previous incarnation of the film, Mr. Rosenthal had to find himself a new cast and a new Moon. This was no small feat: Forrest Whitaker, Alessandro Nivola, Emily Mortimer, Terrence Howard, Juliette Lewis, James Badge Dale, Juno Temple, Leslie Mann and Thomas Haden Church were all attached to the film at some point. Mr. Wright came onboard to take Mr. Whitaker's part, and, as a longtime admirer of Mr. Rockwell, Mr. Rosenthal set up a meeting with the Lawn Dogs actor near what turned out to be their mutual gym. Mr. Rockwell not only accepted the part, but became friends with the director.
The two are already working on another film, according to Mr. Rockwell, though it will have to wait: Currently, Mr. Rockwell is filming an adaptation to Poltergeist and two other projects are in post-production.
An energetic actor, Mr. Rockwell has been somewhat typecast as the lovable con artist in films like Confessions of a Dangerous Mind, Matchstick Men, Seven Psychopaths, Welcome to Collinwood, Safe Men and Choke. (Less so, however, Mr. Rosenthal was quick to point out, in films like The Assassination of Jesse James (by the Coward Robert Ford), Frost/Nixon and Moon, the nearly silent sci-fi feature by David Bowie's son, Duncan Jones.) Much like in A Single Shot, Mr. Rockwell stumbles around an unfamiliar landscape in Moon, a bleary-eyed somnambulist for whom the waking world is increasingly nightmarish.
For Mr. Rockwell, the hardest part of getting into the character Moon wasn't the mindset, but the accent. Originally set in upstate New York, Mr. Rosenthal, a phonological purist, convinced the writer and producers that the film wouldn't lose anything by moving the setting a little farther south, to Virginia, where the rhotic patois would be more palatable both to viewers and actors alike.
"To me, getting the accent down is just as important as how well someone can act," Mr. Rosenthal said. Ironically, most of his cast ended up being composed of English and Australian actors: An unrecognizable Jason Isaacs is a long way from his Lucius Malfoy days playing the criminal Waylon; Somerset's Kelly Reilly is best known in America for playing John Watson's wife in the new Sherlock Holmes films, and, as a tattooed, violent redneck, Joe Anderson bugs out in a way that will make you forget he co-starred in Julie Taymor's take on The Beatles, Across the Universe.
"It's hard work," Mr. Rockwell said on mastering Appalachia. "We got lucky with these actors, because they did their homework and had an affinity for that dialect. It could have been an absolute disaster. "
Mr. Rockwell has no qualms talking about his next project with Mr. Rosenthal, either. "Do you know who Billy Miske is?" he asked us. "He was a guy back in the times of Jack Dempsey—you know, Boardwalk Empire times—and it was a very interesting time for boxing, because there was a lot of illegal boxing going on. It was the transition between fisticuffs and what is now modern boxing.
"This guy had Bright's disease, which I think is a kidney disease, so he was dying, but he was getting very sick," he went on. "But he kept fighting, because he wanted to leave some money to his family."
Like the boxer version of Breaking Bad?
"I think we're more influenced by P.T. Anderson, a little Terrence Malick … though it all gets mixed up together," Mr. Rockwell mused.
As we stood up to say our goodbyes, The Observer's cell buzzed. A text from Mr. Rosenthal:
"When we were talking poetry in in film, I left out one of my all time heroes and perhaps the greatest living filmmaker/poet … Terrence Malick."