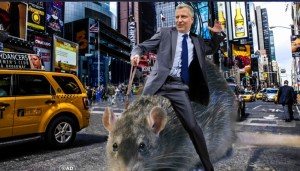 The mayor's race returned to late-night TV last night, with both The Daily Show and Colbert Report offering their takes on next Tuesday's primary.
Back at the helm after an extended absence, Daily Show host Jon Stewart directly went after front-runner Bill de Blasio's tall stature.
"How large is Bil de Blasio? Did that guy fall right off a bean stalk?" he asked, turning to assail Anthony Weiner for his controversies on the campaign trail.
Meanwhile. Stephen Colbert featured the two little kittens rescued last week from a Brooklyn subway track–which Republican candidate Joe Lhota said he wouldn't have saved, sparking fury from the local tabloids and his opponent.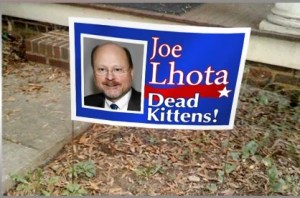 "There's one politician out there with the courage to grease our tracks with cat babies!" declared Mr. Colbert, suggesting that Mr. Lhota could stand out from the competition by being "the only pro-dead kitten candidate" in the race.
With the two kittens, August and Arthur, live in his studio, sitting adorably in a picnic basket on his desk, Mr. Colbert said he was close to offering Mr. Lhota his endorsements–but only if he satisfied one condition.
"You have to prove that when it comes to kitty-cide, you don't just talk the talk. You need to kill these kittens!" he demanded, offering him a spread of weapons.
Watch the full segments below: