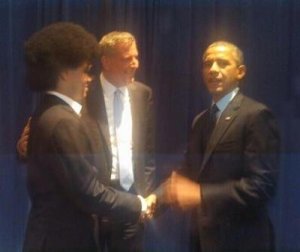 Bill de Blasio attended President Barack Obama's fund-raiser tonight, providing a valuable photo-op for the Democratic Party's mayoral nominee.
It also provided Mr. Obama, who sported an afro in his younger days, an opportunity to marvel at Mr. de Blasio's son, Dante, and his much-sensationalized haircut.
After introducing several guests at the Waldorf Astoria Democratic National Committee fund-raiser, Mr. Obama noted Dante's presence, quipping that he had "the same hairdo I had in 1978," according to a White House pool report.
"Although I have to confess my afro was never that good. It was a little imbalanced," Mr. Obama added, drawing laughs.
Mr. Obama, of course, comes from a mixed-race family, as does the younger de Blasio.
The President, who introduced Mr. de Blasio as "next mayor of New York City," went on to tell the group that he was confident Mr. de Blasio was "going to continue to move New York in a direction where everybody has a chance to get ahead."
"We could not be prouder of the campaign Bill ran, the way he gave voice to the values that make us Democrats," he added.
Mr. Obama officially endorsed Mr. de Blasio in a statement yesterday.