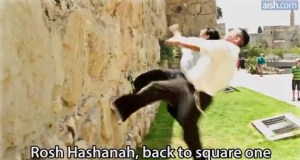 In case you totally forgot about the Jewish holiday that began last night because you were too busy trying to talk to Peggy Siegal at the Style Awards last night and when your mom called and was like "Le'shana Tova" and you were all "Shana…OH-SHIT!" (hypothetically), don't worry, you still have time to repent. Yom Kippur is just around the corner, after all.
A good way to start off the new year is putting "Get Clarity" on your Smartphone device and listening to the cover of Daft Punk's "Get Lucky" by Aish.com, "the world's largest Jewish content website," according to their press materials.

[youtube=http://www.youtube.com/watch?v=vCYRM7KYJY4&w=420&h=315]
It's not like you weren't planning on hearing the original song a billion more times before Halloween, anyway. And this one not only rhymes the word shofar, it includes a shofar backup! Take that, Weird Al!