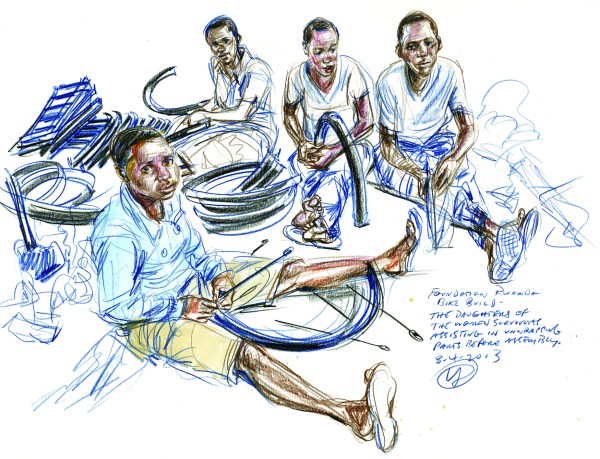 When Victor Juhasz touched down at Kigali International Airport last month, he knew he was a long way from home. "There was none of the paranoia and hypervigilance that we have become accustomed to," the Observer illustrator said of Rwanda's relatively lax security. "Kids were roaming in and out of the taped-off areas, playing around."
Over the next seven days, traveling along the rolling green countryside that surrounds Rwanda's capital, Mr. Juhasz would continue to embrace the unfamiliar as he documented a bike-building mission organized by Foundation Rwanda, an aid group founded by photojournalist Jonathan Torgovnik and filmmaker Jules Shell whose goals include funding education for children born of rape during the 1994 genocide, which claimed approximately 800,000 lives in just 100 days.
Bicycles play a particularly vital role for these rural children, who live far from schools and simple amenities, like potable water, but aren't considered "survivors" of the genocide and therefore do not qualify for government-subsidized education. A bicycle can shorten the long commute to school—sometimes up to four hours by foot—help carry food and supplies to one's family, transport loved ones to the hospital or generate income as a "bike taxi."
No stranger to embedded journalism, Mr. Juhasz did his best to fit in with the locals over the course of his trip, even learning a few phrases in the native language, Kinyarwanda.
"Just saying, 'How are you,' 'Amakuru,' the smiles would go from ear to ear," he said. "There would be a sudden clasping of your hand. There would be a hand to their chest. Some sort of trust had been established."
Mr. Juhasz was also frequently greeted by a shy friendliness, he said, which "made it seem all the more surreal to try to think of something so horrible that happened almost 20 years ago."
The timing of this trip was not insignificant and not just because of the upcoming anniversary. Rwanda has entered an era of relative political stability in the intervening decades, with a burgeoning economy, lowered poverty and maternal and infant mortality rates, and near-universal health care. But Rwanda still bears the genocide's scars. Women who were brutalized by Hutu militiamen during the mass killing of the Tutsi minority suffer largely in silence, shunned and isolated in their communities, with complicated feelings toward the unwanted children who serve as a daily reminder of the attacks.
This heartbreaking reality was summarized perfectly by one woman, who spoke with Mr. Torgovnik: "I love [my second daughter] only now that I am beginning to appreciate that even she is my daughter," she said. "Slowly I am beginning to appreciate that this other one is innocent."
Indeed, emotional and physical fallout from the genocide can be seen in many unexpected places, as Mr. Juhasz experienced one day after the bike build, when 25 women and children gathered at a compound in Rwamagana, an hour from the capital, for HIV testing and a support-group session.
As the illustrator entered the compound, he could hear the women singing. To his surprise, the song was familiar. It was a prayer: "Hallelujah."
Herein, a look at Mr. Juhasz's journey, through the eyes of the artist. —Rebecca Hiscott
To learn more, visit foundationrwanda.org.