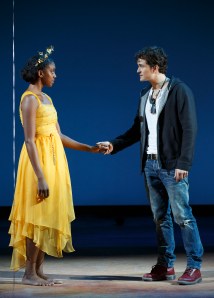 They're two households both alike in dignity, as we learned in high school English and as Friar Laurence, delivering the prologue, reminds us at the beginning of the flashy new Romeo and Juliet that opened Thursday night at the Richard Rodgers Theatre. But what's most striking about British director David Leveaux's staging is just how unequal those two houses are—here, Romeo's Montagues are little match for Juliet's Capulets.
That's thanks, in large measure, to Mr. Leveaux's Juliet. Condola Rashad has earned Best Supporting Actress Tony nominations in each of the last two seasons, portraying two different sorts of young women (a smart and smart-aleck Martha's Vineyard townie in Stick-Fly and a dignified 1950s wife in The Trip to Bountiful). Here, she gets her shot at the quintessential drama teen, and she takes to the part with dewy intensity. Ms. Rashad is radiant in her role beautifully conveying Juliet's youth, her optimism, her young love, her weepy emotionalism. She is subtle, elegant, fantastic.
Her Romeo, however, is not. Orlando Bloom, in his Broadway debut, is no doubt the reason this production exists, the name (and face) that will sell tickets. Those movie-star looks are not immaterial—Romeo's "face be better than any man's," Juliet's nurse tells her—yet Mr. Bloom does not succeed in making Romeo a credible passionate romantic interest. He's sexy, sure, but he's also continually sullen and self-involved. In his "what light through yonder window breaks" love speech, he comes off mostly as creepily lecherous. That Juliet might lust after him is understandable; that she would love him, and die for him, is far less credible.
Indeed, there is a certain imbalance to Mr. Leveaux's entire production, which is alternately pretty and earthy, ethereal and guttural, affecting and artless. The overall look of the production mixes modern dress with a sort of fairy-tale medieval chic (the nobility's Nehru jackets and tunics would only be contemporary on a waiter at a high-end Downtown restaurant). But Romeo and his crew (Christian Camargo as Mercutio and Conrad Kemp as Benvolio) are modernly outfitted as, well, assholes. Mr. Bloom, who makes an awkward entrance on a vroom-vrooming motorcycle, is in a henley shirt, necklaces and slouchy jeans that give prominent display to his purple boxer-briefs; Mr. Carmago's (blustery, funny) Mercutio bares more than a passing resemblance to a younger Keith Richards. Between Mr. Bloom's affect and his posse's appearance, it's Entourage in Verona.
The Capulet crowd fares better. Roslyn Ruff is steely and regal as Lady Capulet, dressed in a severe strapless gown, and Chuck Cooper, as Lord Capulet, blessed with the cast's most deliciously orotund delivery of Shakespeare's language, makes his discovery of his daughter's death the most genuine, affecting scene in the show. The Capulets, lucky to have Juliet's nurse in their employ, are even luckier to have the incomparable Jayne Houdyshell in the role. Her nurse is sweet to Juliet, genuine and subtly, teasingly hilarious.
There is much in Mr. Leveaux's take on this Shakespearian tragedy that succeeds admirably. While it is never addressed in any direct way, he has made the Montagues white and the Capulets black—a small distinction that helps underline the difference between these two equal-in-stature houses and that hints at roots of the underlying, never-specified feud between them. The play opens with something resembling a gang fight between Montague and Capulet partisans, and, while I don't think these updating impulses are ultimately successful (witness Romeo as Vinnie Chase), the setting prompted by that conceit is lovely, a concrete wall—perhaps a bridge abutment or the wall of an abandoned warehouse—painted with a faded, Renaissance painting-like mural that has been covered with graffiti and separates and slides to create slightly different spaces. There is a live cello and drums, which provide urgent underscoring. (The set is by Jesse Poleshuck, the costumes by Fabio Toblini and the music by David van Tieghem.) Some of the stage pictures are truly gorgeous—notably, the final moments, when Juliet's deathbed rises to the top of the stage, her body hovering over Romeo's subsequent tragic end.
Except that, unlike Ms. Rashad's Juliet, we just don't care enough about Mr. Bloom's Romeo, or believe enough in his love for Juliet, to be moved by his death—which is, ultimately, its own kind of tragedy.
DOWNTOWN TROUPE Elevator Repair Service is best known for its devotion to the written word—in 2010, it had a hit with Gatz, a staging of the full text of The Great Gatsby; the next year, it mounted The Select (The Sun Also Rises), a not-quite-complete retelling of the Hemingway novel. Now ERS is back, with a piece consisting largely of U.S. Supreme Court arguments, but this time it's the inspired direction that far outshines the language. The legal jousting eventually becomes a bore, even in an 80-minute performance. But John Collins's sharp, dynamic, consistently witty staging and the perfectly pitched deadpan performances from his ERS actors—Maggie Hoffman, Mike Iveson, Vin Knight, Susie Sokol and Ben Williams—keep the play barreling ahead, even as the script flags.
Arguendo, which opened last night at the Public Theater, is about Barnes v. Glen Theatre, a landmark 1991 decision in which the U.S. Supreme Court upheld an Indiana statute banning fully nude dancing. The ERS script is drawn from transcripts of oral arguments, from a courthouse-steps interview given by a Michigan exotic dancer who came to Washington to watch the proceedings, and from comments that Ruth Bader Ginsburg, who was not yet on the court when Barnes was decided, later made about the justices' robes—their own costumes. Aside from the comedy inherent in debate about G-strings and pasties, the case is made more interesting by an Indiana Supreme Court ruling that specifically exempted various highbrow kinds of performance—opera, for example—from the ban, which puts the courts in the awkward position of declaring what is art and what isn't.
Everyone and everything comes in for a certain kind of stylized mocking here—the reporters covering the case, the lawyers arguing it and certainly the justices hearing it and arguing among themselves. Three actors at a time play all nine justices; performers shift between the roles of judge and lawyer. (Once again, it's all in the costumes.) There's a moving podium, lots of text projected on the upstage wall and certainly the most intricate rolling-desk-chair choreography since the "April in Fairbanks" number in An Evening with Patti LuPone and Mandy Patinkin. The show also has great fun with the question of what kinds of performance are sufficiently high-toned to earn First Amendment protection for their nudity—and, for one performer's sake, let's hope a funny-profound play on Lafayette Street makes the grade. (Not that it really matters: Even a Supremely upheld Indiana law has no bearing in New York.)
The case hung on the question of artistic expression and whether nude dancing, in Indiana, constitutes such expression in a way that G-string-and-pasties dancing does not. Here, at the Public, ERS's artistry is impressive, self-evident and even a little bit titillating. It's just that all that artistry doesn't quite succeed in taking dull legal transcripts and turning them into something transformative.