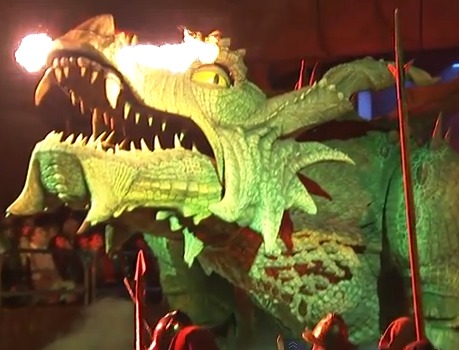 Forget BMW. The latest, greatest example of German engineering prowess is a terrifying, enormous dragon that literally breathes fire, and, according to the latest edition of the Guinness Book of World Records, it's also the world's largest walking robot.
CNET reports that the creature is 51 feet long, boasts a 40-foot wingspan, and weighs 11 tons. Built to appear in "Drachenstich," a 500-year-old Bavarian folk play staged every August, she's also designed to spew blood on command. You know, in case you're looking for a way to make sure your toddler never sleeps again.
The marvelous mechanical monster was built by German electronics maker Zollner Elektronik AG:
"Realizing a radio remote-controlled, outdoor-capable four-legged robot walking robot in unheard-of dimensions, was what really motivated the developers and designers at Zollner Elektronik AG," the company writes.
Here is an explanatory video which, with its SUPER INTENSE soundtrack, turns a mechanical engineering project into a medieval action movie starring Jason Statham. Wonder if we could get one for the Betabeat offices?
[youtube=http://www.youtube.com/watch?v=qmbW5gvAX4U&w=560&h=315]
(h/t NBC News)