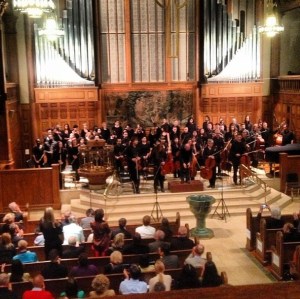 There are many ways to open a new gallery. On Tuesday night, the irrepressible Frenchman Emmanuel Perrotin opted to inaugurate his new Upper East Side space, at East 73rd and Madison, with a ridiculous, remarkable carnival-themed blowout at the Russian Team Room, the sort of party that seems likely to be remembered with mixtures of affection and horror for years to come.
And then, last night, it was another dealer's turn, as Dominique Lévy, formerly of L&M, opened her debut show, "Audible Presence: Lucio Fontana, Yves Klein, Cy Twombly," in the space just above Mr. Perrotin's. Her post-show affair was at a church, Madison Avenue Presbyterian, just across the street.
A few minutes after 8 p.m., the doors closed on the packed house, and Ms. Lévy introduced the event, a performance of Klein's Monotone-Silence Symphony, which calls for an orchestra and chorus to sustain a D-major chord for 20 minutes, and then to sit silently for 20 minutes—"one continuous sound," the artist said back in 1959, "drawn out and deprived of its beginning and of its end, creating a feeling of vertigo and of aspiration outside of time. Thus even in its presence, this symphony does not exist."
Nattily attired in red pants and black slip-on shoes, Ms. Lévy admitted that when she first heard the work, a few years ago in Europe, the silence was at first funny, then terrifying and then profoundly moving. "It took me quite a time to enjoy it," she said. She told a tale about a musician who insisted on playing the same note for years and years. Ceasing only after two decades, he told his wife, who by that point had had enough, "I found the note everyone had been searching for."
That man sounds like a monster, but he was on to something. The 70 black-clad performers—three double bassists, 10 cellists, a handful of violinists and woodwind players, dozens of singers—began abruptly, no accent, no attack, and as they worked to hold the notes of that chord—D, F-sharp, A—you got the very eerie sense of other, stranger notes sneaking in, perhaps fractional microtones as the players' fingers shifted ever-so-slightly on their strings, as voices dropped out to catch a breath and then came back in, modulating quickly to match the tone. Conductor Roland Dahinden stood on his podium before his musicians (who played sans stands) with his arms raised, floating his attention around the orchestra, focusing their attention. He was in the peculiar position of being a conductor who needed to keep no beat or tempo, instead building and refreshing a cloud of steady sound, one eye on his timer.
Despite my most fervent wishes, I have never felt anything close to synesthesia, but like, I think, most people, I have always had feelings about particular notes and chords. C is clean and comfortable (sometimes too much so), G-sharp a little tangy and agitated. But D, the basis of the whole performance, is bright and strong, satisfying rather than cloying—it's a dip in warm, light-blue Caribbean waters, a bite into a creamy vanilla macaron. And so living in that chord for a while, for 20 minutes, watching all of these people struggle to hold their one note, to stay in tune, was wildly fulfilling and moving. But it also became a little scary, as that rapture turned into addiction, and fear entered: the knowledge that it was all going to stop at some point.
And then it stopped.
Mr. Dahinden brought his arms down. The musicians lowered their instruments and bows. The church was still. People coughed. Cars squeaked by every few minutes outside. But otherwise there was complete silence.
It was, as Ms. Lévy had suggested, intensely emotional: all of this focused activity suddenly giving way to nothingness.
It's temptingly easy to load this work down with metaphor—life that goes and goes until it doesn't—or even to connect it to Klein and his tragic death, at 34, of a heart attack, a career cut in half. That all seems valid, but it's the very basic, intimate and unutterable premise of the work that provides its tenuous pleasures, and its edge: the tacit agreement of hundreds of people to sit in a room together, to participate. That's the unspoken majesty that accompanies all art experiences—that for a period, in a gallery or concert hall, we will agree that something matters. We choose to believe, to see what happens when we, individually and collectively, give ourselves over to it. Klein pares that process down to its absolute minimum, though not to the point of nonexistence, as he potentially claimed. There is presence, then absence, both meticulously attended.
After 20 minutes of silence, by turns rich and light and chilling, Mr. Dahinden turned and bowed. His musicians stood and did the same. The audience gave them a standing ovation.
Update, 4:45 p.m.: An earlier version of this post misstated Ms. Lévy's nationality.