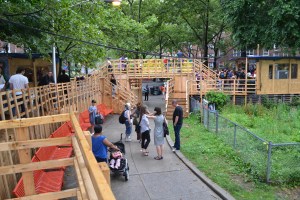 Just a quick announcement that, if you have not yet made it to Thomas Hirschhorn's lively, multifarious Gramsci Monument at Forest Houses in the South Bronx, you have only until this Sunday to do so. It's one of the more interesting and unusual artworks that has graced this city recently, and I suspect that you will regret missing it.
Over the course of it's run, the Dia-sponsored project earned largely positive reviews, though sometimes cut through with some skepticism.
Writing about the piece in The Observer, Maika Pollack wrote, "As art, it is a fascinating project. Whether or not his efforts represent or can effect real change is, of course, another matter altogether, and one on which I remain a skeptic." Ken Johnson, predictably, slammed it in The Times. Others were more taken with it. In The New Yorker, Peter Schjeldahl called it "[t]his year's most captivating work," adding, ""The democracy of the place, levelling the artist with the kids asplash in the wading pool, brought tones of Walt Whitman to mind."
And yet, though I'm particularly sympathetic to Mr. Schjeldahl's piece, and to Ben Davis's positioning of the work as "a monument to an absence—to institutions, organizations, and movements that still need to be built," it's hard to say who is really in a suitable position to judge it.
It's a piece that has unfolded over more than 70 days, through the interactions of hundreds of people from the surrounding community and much further afield.
When I visited on opening day, I was thrilled. It struck me as "easily the most energetic public artwork the city has seen in years." I hoped to make a few return visits, but summer came, and I never made it back—failing, frankly, as a committed viewer of, and participant in, the work. I am sure I am not alone. And so I don't feel particularly comfortable passing judgement, one way or the other, beyond a fairly superficial celebration of what I know and understand of what was designed and planned.
When you stop by, perhaps ask Mr. Hirschhorn and Erik Farmer, the Tenants Association president who spearheaded bringing the work to Forest Houses, how they now judge it. Talk to some people who have been involved over the past few months.
Mr. Hirschhorn is fond of discussing how his participatory artworks can generate memories. On opening day he mentioned that, after the monument is dissembled, it will "I hope…switch over to the phase of being memory, and getting in a way into the hearts of some people here, and also of me."
Which is why I'm now hoping—lobbying, really—for a Gramsci reunion in a few years, so that we can in some sense appraise the state of those goals, using that exercise to reflect on our own experiences there, and our own aims.