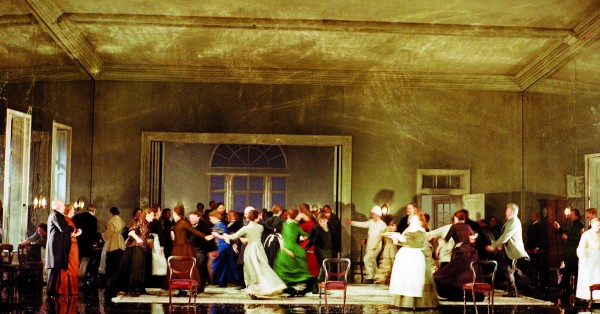 For years, the Metropolitan Opera's opening night would arrive at the end of September, and half of the audience—there for the party after—would promptly doze off. The snoozy gala evenings tended to include morsels, or even whole acts, from warhorses like Otello and Carmen, and they always seemed to star Placido Domingo, Renee Fleming or both.
Well, we give Peter Gelb a lot of (well-deserved) flack, but, to give him his (considerable) due, opening night—Sept. 23 this year, mark your calendar and dry-clean your de la Renta—has regained considerable luster on his watch. Instead of the multi-opera mash-ups, the season, since the beginning of Mr. Gelb's tenure in 2006, usually begins with a new production and at least one A-list star. And that star's name usually begins with an A, too: the soprano Anna Netrebko, who has her third opening night in a row this year as she makes her New York role debut in Tchaikovsky's Eugene Onegin, with the extra dazzle of Valery Gergiev, unmatchable in Russian music, leading the Met's orchestra.
Onegin is not as flashy as some diva vehicles: The lady doesn't jump off the roof, kill her husband or die of TB. Tchaikovsky was after something else in his adaptation of Pushkin's classic poem: romantic melancholy and the agonizing feeling of people whose lives are perpetually out of sync.
Ms. Netrebko plays Tatyana, a bookish girl who falls for the title character, a vain playboy. She confesses her love (the scene in which she pours out her feelings in a letter is the opera's high point), gets rejected and grows up to marry a prince, at which point Onegin rethinks his attitude toward her, to no avail. What's done is done, and the two go their separate ways. Curtain.
What's most exciting here is the prospect of Ms. Netrebko getting the chance to communicate in her native Russian instead of the "adopted" operatic languages of Italian and French she's used for most of her Met roles. (It has been 11 years since she sang Natasha in War and Peace here.) Singing in one's mother tongue is always a good thing—even bel canto specialist Beverly Sills was at her absolute peak in the American English of Douglas Moore's The Ballad of Baby Doe—but for Ms. Netrebko it's especially important.
Ms. Netrebko has what the legendary Met soprano Zinka Milanov called a "vocal message." How she sings—or, more accurately, how the voice comes out of her—is as least as important as musicality or diction. She doesn't perform music so much as she channels it: The sound is an elemental force flowing through her body, and sometimes she seems as surprised as we are at what the voice accomplishes.
In her adopted languages, Ms. Netrebko has to stay a little on guard, making sure the vowel sounds are true and the consonants in place. In Russian, she just sings, and the effect when she did another Tchaikovsky opera, Iolanta, in St. Petersburg earlier this year was galvanic. These are big, lyrical lines, and she gives the uncanny effect of soaring both above and through them. On the evidence of bits of Onegin that showed up on YouTube after her debut as Tatyana in Vienna in April, it's a glorious, primal noise.
She's not alone in this show, of course: The crisp lyric baritone Mariusz Kwiecien is Onegin, and the Met's current got-to lyric tenor, Piotr Beczala, croons the doomed poet Lenski, whom Onegin—spoiler alert—kills in a pointless duel. The staging, new to the Met, was first seen at the English National Opera directed by Deborah Warner, who is having medical problems and last month turned it over to her longtime collaborator, actress Fiona Shaw. Per Gelb's decree, the opening-night tradition includes a live simulcast of the opera offered free of charge in Lincoln Center Plaza and Times Square.
This new production of Onegin replaces a much-loved Robert Carsen staging, one that had both glamour and simplicity; a stage covered with autumn leaves captured the opera's sense of bittersweet longing. The Carsen production's retirement points to one unpleasant side effect of the Gelb regime and of contemporary opera in general: the premium placed on new productions—particularly by star singers who don't want to unveil new roles in shows from, in this case, 1997—means that perfectly good work gets the ax. Updating the Met's repertory is an excellent thing, but it's unfortunate when worthy productions join outdated clunkers in the recycling bin.
Another opening night, another borough, another Anna. BAM's Next Wave Festival and New York City Opera, on its last legs, team up to present Anna Nicole, the local premiere of Mark-Anthony Turnage's opera, written for London's Royal Opera in 2011.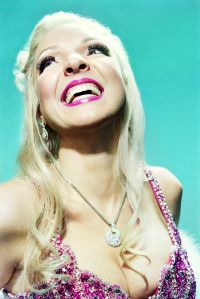 The multihyphenate blond bombshell-stripper-centerfold-model-reality star-joke who called herself Anna Nicole Smith is the leading character, but the opera itself—opening Sept. 17— is no joke, or at least not an unintentional one.
The libretto by Richard Thomas (Jerry Springer: the Opera, which was better than it sounds) hits the high and low points of Smith's bizarre career through life in mock-Brechtian style, with the heroine (soprano Sarah Joy Miller) chased from scene to scene by a chorus of microphone-wielding reporters. It's littered with four-letter words and a generally raunchy attitude; there's an oratorio-style chorus with a text made up of various slang terms for breasts.
Bizarre as Anna Nicole promises to be, it's a sort of homecoming for City Opera, which during its 70-year history has been a haven for world premieres and other contemporary operas generally neglected by the more conservative Met— though not always. Back at Lincoln Center, the Met is putting on, for the first time in a while, a new opera it commissioned, one almost as strange as Anna Nicole. Two Boys, by the wunderkind Nico Muhly, is a rare example of an opera cast in the form of a police procedural drama, with a woman, Detective Inspector (mezzo-soprano Alice Coote), in the style of the BBC's Prime Suspect. She's investigating a very new sort of crime, an attempted murder arranged over the Internet.
Mr. Muhly creates his aural cyberspace not through obvious electronic sounds but with a conservative classical orchestra Benjamin Britten would recognize. Expert but unflashy choral writing evokes disjointed, yearning online voices. The superb young American tenor Paul Appleby is Brian, the perpetrator—or maybe victim?—of the bizarre crime of passion that sets the opera's plot spinning. He's joined by a large cast of Met regulars and debut artists.
The Met's doing more mainstream repertoire too, of course, but among some routine Rigoletto and Tosca revivals, a must-see is the return of Richard Strauss's grandiose fairy tale Die Frau Ohne Schatten, on Nov. 7.  It's four hours of high-calorie, late Romantic roaring and wailing about a half-mortal empress who must gain a shadow—a somewhat heavy-handed metaphor for the ability to bear children—before her husband is turned to stone. Mesmerizing German soprano Anne Schwanewilms makes her Met debut in the title role, opposite heldentenor Torsten Kerl as the imperiled emperor and mezzo Ildikó Komlósi as the Mrs. Danvers-ish nurse.
Also on board are baritone Johan Reuter and American soprano Christine Goerke as a human couple who just might turn out to be shadow donors. Herbert Wernicke's production, heavy on stage magic and giant flying mirrors, was the hit of the 2001 season when it premiered here, and you don't want to wait another decade for another chance to see it.
After all that Straussian sweetness, you'll need a palate cleanser, and Lincoln Center's White Light Festival offers just the thing. In a rare New York appearance on Nov. 13, charismatic Italian soprano Anna Caterina Antonacci performs Era La Notte, a theater piece incorporating arias and songs by Claudio Monteverdi and his 17th-century contemporaries.
A year ago, Ms. Antonacci mesmerized audiences at Alice Tully Hall just standing in front of a piano for a program of fin de siècle salon songs, so she'll surely be breathtaking in this one-woman show, staged with Juliette Deschamps, playing a lovelorn madwoman swathed in Christian Lacroix.
It is one of the must-hears during a fall that may as well begin and end with Anna, as much a palindrome as the name itself.