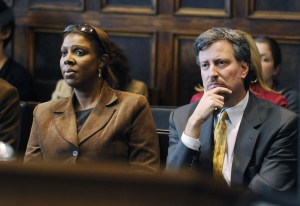 Public Advocate Bill de Blasio has ducked a potentially divisive primary runoff in the mayor's race, but the candidates vying to replace him have no such luck.
As their one-on-one face-off heats up, Councilwoman Tish James and State Senator Daniel Squadron are racking up endorsements as they work to secure enough support to reach the 50 percent they'll need when voters head back to the polls on October 1.
Notably, each has earned the nod of a former rival. Girls Who Code founder Reshma Saujani, who placed third in the primary, yesterday endorsed Ms. James; later today, she'll lead a women-themed press conference along with the National Organization for Women, Planned Parenthood and EMILY'S List. The fourth-place finisher, educator Cathy Guerriero, endorsed Mr. Squadron Tuesday.
Ms. James further rolled out support this week from the Staten Island Democratic Party. While not as powerful as other county organizations, the nod was nevertheless touted as a sign of momentum by her campaign. "We're honored to win support from the Staten Island Democratic Party as we build a broad coalition of progressives who are ready to take our city beyond Mayor Bloomberg's policies and onto a new direction," a spokesman told Politicker.
But Mr. Squadron has been racking up his own support on Staten Island, including the backing of Assemblyman Michael Cusick and former Congressman Mike McMahon. They joined Brooklyn Assemblyman Félix Ortiz and Bronx Assemblyman Luis Sepulveda, who had both endorsed Ms. Saujani before her defeat.
Guillermo Linares, a former assemblyman and City Council member, has also endorsed Ms. James.