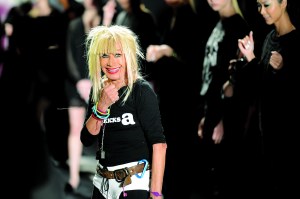 Start the morning early with the richly textured and opulently glamorous gowns of Bibhu Mohapatra, whose celebrity clients include Gwyneth Paltrow, Hilary Swank and Mad Men's Elisabeth Moss.
The Studio at Lincoln Center, 70 Lincoln Center Plaza, (212) 875-5456, 9 a.m., by invitation only
Betsey Johnson's show is always over-the-top, fabulous fun. Johnson's invite this year is an amber prescription bill bottle filled with Aspirin-shaped mints. The Rx on the bottle reads "B.J. one a day"—the ideal antidepressant.
Studio at Lincoln Center, 70 Lincoln Center Plaza, (212) 875-5456, 5 p.m., by invitation only
The perfect chance to break in your white paint-covered Maison Martin Margiela for Converse sneakers: the opening party for the collaboration of Miami-based artist Daniel Arsham and music/fashion guru Pharrell Williams. Arsham, who favors the blank canvas feel of the color white, morphs gallery walls to create surreal installations and sculptures. Pharrell morphs mainstream pop stars into the current cool thing (see: Robin Thicke's "Blurred Lines"). Their dual artistic venture is the art event of the week.
Standard Hotel, East Village, 25 Cooper Square, (212) 475-5700, 6-9 p.m., by invitation only
Style doesn't sleep, and young designer Brandon Sun is celebrating his show with a pajama-themed after-party. Sun's lineup to keep you awake way past midnight: music by Kill the DJs, a live performance by Maya Vik, production by A Higher Society and musical curation by Smoke & Mirrors, hosted by our own Peter Davis.
Tribeca Grand Hotel, 2 Avenue of the Americas, (212) 519-6600, 9 p.m., by invitation only