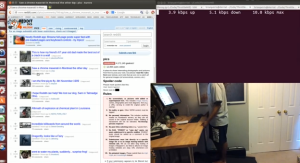 It's hard to work out when there's so much Internet out there to peruse. Why run in place at a smelly gym or, even worse, outside in the fresh air, when you could be tweeting, researching string theory and examining before-and-after celebrity nose job pics all at once from the comfort of your couch? 
Luckily, a software developer has taken a step toward resolving this conundrum by hooking his computer up to his treadmill so that his steps power his Internet connection, PSFK reports.
The developer, Brian Peiris, took a little bit off the top of the treadmill so that it would fit under his desk, plugged the right wires into the right places, and commenced reading Reddit while walking on the treadmill. And the faster he walks or runs, the quicker the Internet speed.
We have a feeling this apparatus might not catch on among the majority of Mr. Peiris's Reddit comrades, but the never-ending, largely pointless act of walking on a treadmill at least provides a pretty solid metaphor for browsing the never-ending, largely pointless Internet.
[youtube=http://www.youtube.com/watch?v=dJ-2ML3-_pA&w=420&h=315]