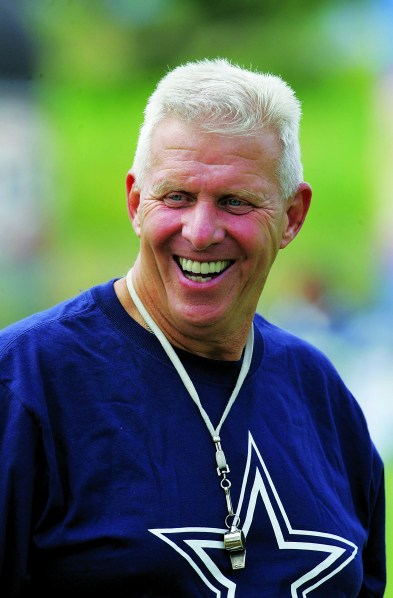 It was ostensibly a roast for Bill Parcells, the two-time Super Bowl-winning Giants coach. But beforehand, in the "VIP room" of a New Jersey hotel in the shadow of MetLife Stadium, Lawrence Taylor couldn't wait for the appointed hour and its appointed man.
Athletes relate to each other by giving each other a hard time. That dynamic doesn't change even if they haven't seen each other for years, or decades. The target of Mr. Taylor's ribbing was Ottis "OJ" Anderson, the MVP of Super Bowl XXV in 1991, who, as Mr. Taylor pointed out numerous times, was both the darkest-skinned and most rotund of the eight ex-Giants in attendance.
"You pitching a shutout, Juice!" Mr. Taylor repeated several times for several different audiences, busting up laughing each time. He was leaning back in his chair with slightly glazed-over eyes, gnawing on a stubbed-out cigar.
Soon, it was time for the migration from the VIP room to the ballroom, where the roast would take place. The Transom tagged along with Mr. Taylor for the several-hundred-feet walk. He was slurring his answers to our questions about his plans for the roast, saying several times he just planned to "go with the flow." When we asked him about Mr. Parcells's contribution to his career, he sensed our desire to keep the conversation going and signaled his to end it: "I ain't gonna go through that now, man. Just gonna go in there and do this shit," he said and then peeled away.
Inside the ballroom, there was Mr. Parcells, dressed in all black, an outfit whose slimming effect augmented his recent weight loss. At 72, the Big Tuna—his nickname derives in part from his curvy, middle-heavy physique—looked diminished. Eight ex-players sat on the dais, ready to roast their former coach. But they were upstaged by comedian John Pizzi, the roastmaster, who sprayed his comic bullets evenly around the room.
To Mr. Taylor, a prostitute joke right off the bat. On the pale white complexion of quarterback Phil Simms: "Is it me, or does Simms look like he could shit chalk?" On Mr. Anderson, whose head is brown, bald and bulbous, "Look at his head: It looks like  Oprah's tit." On Mr. Parcells himself and his late-life dental care: "I thought it was Gary Busey with a thyroid condition."
Mr. Taylor absorbed the majority of Mr. Pizzi's barbs, unsurprisingly. Sometimes he took it well, and sometimes he looked like he was about to get off the couch and revert to linebacker form. Sometimes he was nodding off; sometimes he was close to fully conscious. When his former teammates waxed sentimental about his ferocity on the field, he demurred as only he could: by making the jerk-off gesture.
As for the players, they went after each other as much as they went after Mr. Parcells, a tribute to the coach's enduring power to hold players in his sway and to create a sense of competition between them.
Locker room humor prevailed, like references to the anatomical allotment of Hall of Fame linebacker Harry "The Horse" Carson. Most of the crowd loved this stuff, along with Mr. Carson's own sheepish admission that he "took advantage of being a New York athlete."
Mr. Parcells wasn't unscathed, though. Brad Benson, an offensive lineman from the '80s, somberly detailed his many hip and back operations and traced them back to one moment in his career: carrying the coach off the field after Super Bowl XXI.
Linebacker Brian Kelley congratulated Mr. Parcells for winning three Super Bowls. When Mr. Parcells corrected him by saying he had only won two, Mr. Kelley replied, "Oh, yeah. That was Belichick."