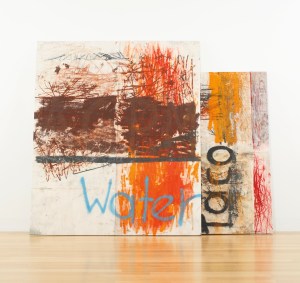 "There's a lot of money to be made trading Oscar Murillo at this point," Kenny Schachter told Katya Kazakina in her profile of the 27-year-old artist last week. Boy, that's an understatement! Today and yesterday, a couple of untitled works by Mr. Murillo from last year came up at auction here in New York, and both sold for double their high estimates. These two lots come on top of a third Murillo that set a new record for the artist last Thursday at Phillips at $401,000, 10 times over its high estimate.
The first, at Sotheby's "Contemporary Curated" auction, sold yesterday for $197,000, with premium. It had been estimated to sell for between $60,000 and $80,000.
The second sold today at Christie's "First Open" sale, and though its estimate was slightly lower ($50,000 – $70,000) it sold for around the same amount $195,750, with premium.
That Mr. Murillo only doubled his high estimate shows a degree of logic exists in his bonkers market. This past June Mr. Murillo exceeded a high estimate by a factor of eight in London when a piece of his sold for $389,199, his previous auction high.