Caroline Pardo knows a thing or two about selling square feet. Up until April, for 10 years, the Two Trees director of commercial leasing was largely responsible for shaping Dumbo's unique retail mix in accordance with Walentas family preferences that their buildings be filled with diverse, interesting retailers.
"We want to maintain the character of the neighborhood by having mom-and-pop stores … as opposed to having a bank on every other corner or having too many national chains in the neighborhood," Ms. Pardo told The Observer back in 2009.
But now Ms. Pardo is attempting to close a property deal of another type—selling the two-bedroom condo that she bought at 133 Water Street last year. And, as befits an ambitious negotiator, she's trying to pocket a good deal more from the sale than the $717,800 that she and husband Ralph paid for the pad in June 2012, according to city records. The condo, listed with NY Casa broker Rachel Aschalew, is now asking $1.1 million.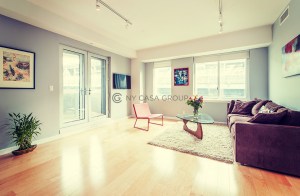 Even so, Ms. Aschalew anticipates a bidding war. "The condo is a pretty great condo. I've received several calls about it already; It has a bridge view and a terrace," said the broker. It was, she added, the least expensive two bedroom in the building—a slightly larger two bedroom on a lower floor is asking $110,000 more.
The development started out as condos in 2007, then went rental, then went condo, with developer Guma Construction filing for bankruptcy along the way, freaking out the residents so much that they started a blog about it. Nor was bankruptcy the building's only problem: it was designed by once omnipresent Brooklyn architect Robert Scarano, later barred from ever filing documents with the DOB again after he was found to have fudged applications in order to get projects approved.
But things must have settled down at the silvery condo tower—at least we can't imagine a property maven like Ms. Pardo deciding to buy last year when the building went condo if they hadn't. Ms. Aschalew said that Ms. Pardo and her husband had been renting at 133 Water for several years when they took the plunge into property ownership, but decided to sell because their family has outgrown the space.
And while the Pardos may be seeking a bigger spot, the Dumbo insider definitely isn't looking to leave her cobblestoned domain, according to her broker. "Of course she's staying in the neighborhood!" Ms. Aschalew exclaimed.