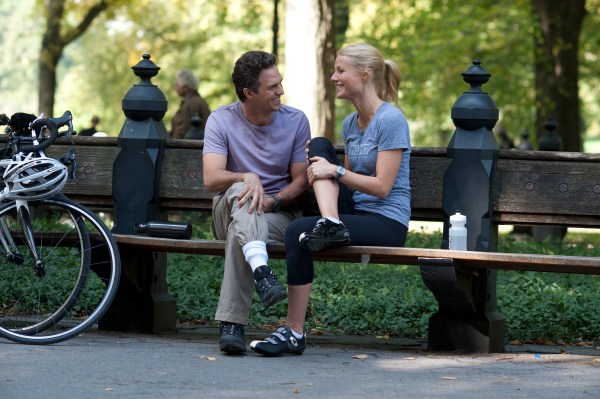 The theme of sex addiction, a disease that causes both physical and psychological pain and often drives its sufferers to suicide, took viewers to the dark side in Shame. Director Stuart Blumberg, who co-wrote the Oscar-nominated script for The Kids Are All Right, sees the same subject as a potential for comedy. In Thanks For Sharing, the conflicted lives of sex addicts are played for laughs. Since anyone in a 12-step program will tell you there's nothing funny about an illness that is every bit as destructive and heartbreaking as alcohol or drugs, the results are frustratingly mixed.
Out of the assorted cases in a New York program of Sex Addicts Anonymous, Mr. Blumberg and co-writer Matt Winston connect three narrative plots to examine different aspects of an addict's struggle to find a meaningful, productive and functioning place in society. Mike (Tim Robbins), a recovering alcoholic, has been sober for 15 years in A.A., with the help of an understanding wife (Joely Richardson). But sex is a completely different problem. There are women on every street corner in New York, and many of them are more than eager, willing and able to orchestrate a downfall. Somehow, he has resisted temptation long enough to become the inspiration in a support group that includes Adam (Mark Ruffalo), an environmental consultant whose miserable history of broken love affairs has him terrified of love. Like any addiction, the struggle to change, improve and cure a sick sex drive is overwhelming, but Adam has followed the strict rules (no masturbation, no multiple relationships at the same time, no one-night stands, no prostitutes, no lying) and feels he's ready for a real commitment. Their fellow groupie Neil (comic Josh Gad) is a slob who has been forced to attend meetings by the police for "nonconsensual feeling-up of women in public places." Neil is a real mess who sublimates his sex cravings for sugar doughnuts. Thanks For Sharing shows how they relapse in their own ways, seeking balance in situations that are often amusing but not always convincing.
While Neil, a doctor who avoids taking his condition seriously, seeks answers in a cuckoo bird named Dede (Alecia Moore, better known as the pop star called Pink), Adam hides the stigma attached to sex addiction by dishonestly failing to come clean with a smart, loving new girlfriend with real potential named  Phoebe (Gwyneth Paltrow). Of the different parallel narratives, the Ruffalo-Paltrow team displays a juicy chemistry that is contagious. I like their lack of self-pity and find them immensely attractive, but eventually, the comedy distracts from the real problems addicts endure. The film is too glib and facile to support the weight of such sobering subject matter. The candied opposite of the grimy, toxic atmosphere I found so disturbing in Shame, it butters Manhattan in a shimmering glow that is distinctly at odds with the emotional torment the characters are experiencing. It means well, but finally, it's a lighthearted film that is ultimately weakened by too much star wattage. Thanks For Sharing would have been better as a documentary.
THANKS FOR SHARING
WRITTEN BY: Stuart Blumberg
DIRECTED BY: Stuart Blumberg and Matt Winston
STARRING: Mark Ruffalo, Tim Robbins and Gwyneth Paltrow
RUNNING TIME: 112 min.
RATING: 2/4