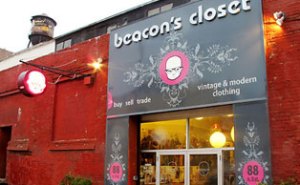 Vice Media is expanding, taking over the space that hipster used clothing store Beacon's Closet has occupied since 2000, Crain's reports.
Just like many of the people who buy and sell their clothes at the consignment store, Beacon's Closet is getting priced out of Williamsburg and moving north to Greenpoint, where the rents are (slightly) cheaper.
"It seems like a lot of landlords are assigning arbitrary pricing to their spaces and just waiting to see what big fish or national chain will come and take the bait," Beacon's Closet founder Carrie Peterson told Crain's.
In this case, that big fish is Vice Media.
Vice's expansion, and Beacon's Closet relocation, is being framed as a harbinger that the hipsters are getting priced out of Williamsburg. Does this mean that Vice Media, which started as an irreverent hipster mag and has since expanded (first an HBO show, then the news that Rupert Murdoch's Twenty-First Century Fox made a deal to acquire a five percent stake in the company) has gone mainstream?
Well, one thing's for sure. Vice can certainly afford Williamsburg's skyrocketing rents: the $70 million dollar deal with Twenty-First Century Fox meant that the company's value was put at $1.4 billion.
And North 11th Street between Wythe and Berry, home to The Brooklyn Brewery, around the corner from hotspots like The Wythe, Brooklyn Bowl and Output, will still have its fill of hipsters…and presumably more Vice employees.
Although they may have to walk seven blocks to Greenpoint to buy their used clothes.