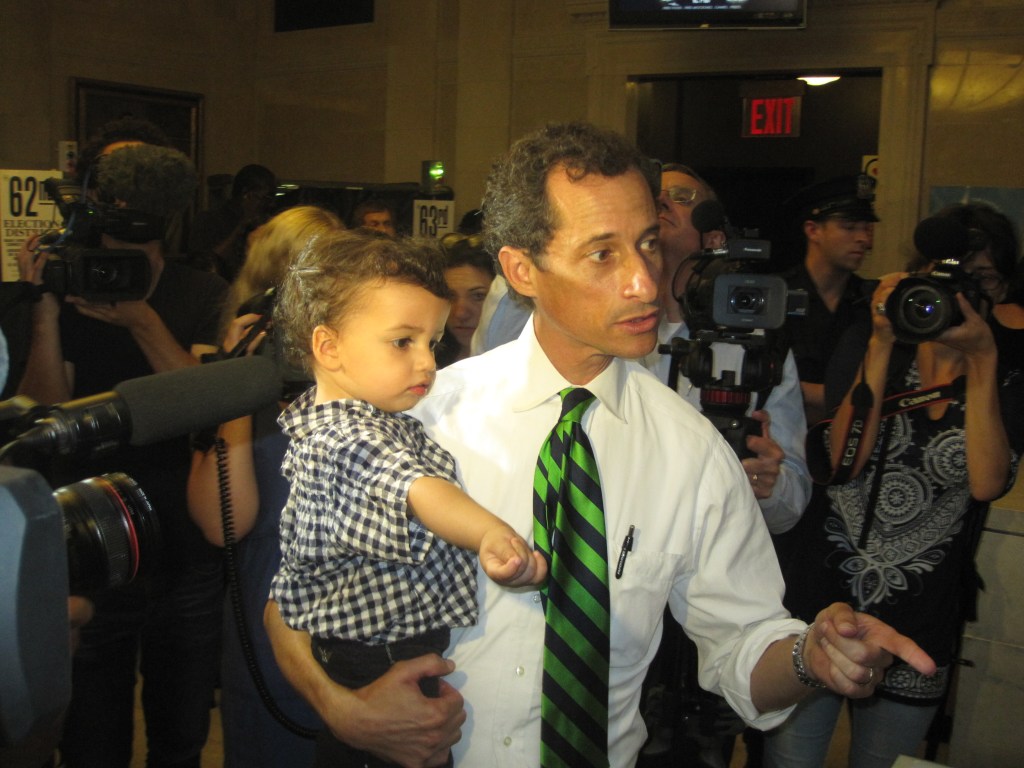 Anthony Weiner asked the Board of Elections to intervene today–so he could ensure the press got a good photo of him casting his ballot with his son on Election Day.
The former Congressman had been scheduled to vote at 9:30 a.m. at a Baruch College building not for from his Park Avenue South apartment. Instead, frantic staffers rushed in and out of the building, conferring with poll workers and making calls. There had been a "snafu," with the Board of Elections, said Mr. Weiner's spokeswoman, Barbara Morgan, who paced up and down the sidewalk outside of the building, tracked by two film-makers.
Poll workers at the site explained that Mr. Weiner's name was in the voter rolls–but that his entry was missing his signature, meaning that he would have to use a paper emergency ballot instead of stepping into a curtained voting booth and pulling the lever of one of the old-school voting machines, hauled out for this year's election.
While it's something many voters (including Republican mayoral candidate Joe Lhota) were forced to do this morning, Mr. Weiner was insistent on using the booth–because, he admitted, he wanted it captured by the assembled throng of press,
"Under most circumstances we'd have voted by paper ballot, but the Association of Still Photographers said that would be violating the rules of Election Day photo-ops. So we called the Board of Elections, they called out here," he said. "They needed some notification because apparently I'm not very well-known. There's a lot of people pretending to be me today, apparently."
Later, he told Politicker that the typical voter "could have gone down to the temporary judge that's set up this day to take cases like this … We could've done that. It would have cost us waiting another 45 minutes," he said. As he explained, "I was concerned that the voting shot you guys would get would be me writing on a piece of paper … It was Barbara's idea."
Board of Elections spokeswoman Valerie Vazquez told Politicker that there had been "a ministerial error" that should have been caught in the proofing process. "Mr. Weiner's staff called this to the attention of the Board this morning. The Board staff examined the records in its files and determined what occurred. A bipartisan group of Board staff instructed the poll workers that if they confirm the address and date of birth of Mr. Weiner, he should be allowed to sign in the poll list book and vote on the machine," she said. "The systems of checks installed to ensure that every duly enrolled voter can vote in their party's primary worked, albeit not perfectly."
Mr. Weiner had previously said that his wife, Huma Abedin, would be joining him to cast her vote. But because of the delay, Mr. Weiner said she'd missed the photo-op.
"When we had it originally scheduled we were going to vote together. Now she's on a call," he said.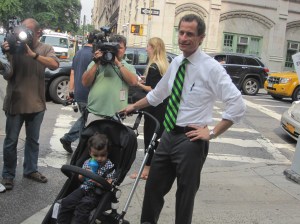 In a scene reminiscent of his first days on the trail, Mr. Weiner was mobbed by reporters, still and TV cameras, including a crew from Inside Edition, which trailed him and Jordan down the street after he'd cast his vote.
Mr. Weiner said he'd been happy with the campaign he'd run and remained resolute, despite numerous polls showing his chances of winning tonight remote.
"I'm going to keep going today all day trying to win this election. And I hope to. And I expect to … If that doesn't happen then you'll have tomorrow's news report," he said.
But the press seemed to be more interested in the younger Mr. Weiner, who waddled down the sidewalk, stopping to explore a manhole cover and water pump.
"I'm kind of violating like one of the cardinal rules of public relations. He's stepping on my story big-time," the elder Mr. Weiner quipped.
Later, a staffer tried to step in to provide a barrier between Jordan and a cameraman.
"Dude, he's way tougher than you are, don't worry about it," Mr. Weiner said of his son. "This guy eats Inside Edition cameramen for lunch."