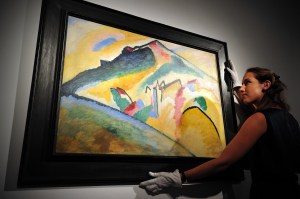 Kenny Schachter is a London-based art dealer, curator and writer. His writing has appeared in books on architect Zaha Hadid, and artists Vito Acconci and Paul Thek, and he is a contributor to the British edition of GQ. This article will also appear in Swiss money manager Marc Faber's Gloom Boom & Doom Report. The opinions expressed here are his own.
When the Financial Times refers to the Andy (Warhol) Index, it is time to sit up and take notice. We have entered a fundamentally new concept of art and the market, one akin to other asset classes like property, precious metals, wine and classic cars. SWAG—the recently coined measure of alternative investments: silver, wine, art and gold—misses the mark, ignoring high-end residential property, which closely tracks art. But heed my warning: stay out of the way of the raging bull that is the current contemporary art market.
There's no guarantee that posterity will attach as high a premium to a name as this generation does, but thankfully the art market doesn't seem to mind. What we will pay in the future for a 35-year-old painter whose work sells today for $1,000,000 (yes, they exist) is anyone's guess. But does it matter? Investors and collectors go in with eyes wide open—or ears, anyway—so caveat emptor and enjoy the ride, for it's sure to be whiplash-inducing in the severity of swings to come.
But therein lies the fun, excitement and desire to learn. It's a constantly unfolding and expanding information game, and gathering and analyzing the trends and transformations is a widely pursued passion. The art market is the broadest it's ever been—and headline-grabbing prices only add to the frenzy—spawning graduate-level programs in art-market studies. I should know, I am lecturing at one for the University of Zurich.
Even the staid journal Grant's Interest Rate Observer has weighed in on the subject (Volume 31, no. 17), and perfectly illustrated a certain wrongheaded approach, one that fails to account for the fact that there is an inherent value in art. Sure, great art needs time to be canonized or be of high enough objective worth to have lasting power, to establish itself historically. But people don't seem to understand, even those who have managed to stay in the employ of banks and hedge funds (the ones left standing, that is), that art is a language, an obsession (in addition to that for cash and cache), and since it moved off cave walls it has been coveted by powerful players, from the Medicis to the Mugrabis.
Today, art is a fully-fledged market as rational as any other and, like the financials, it's driven as much by a healthy dose of psychology. As long as there is deep passion, cultural intrigue and a steady stream of dinner parties, art will be supported, collected and traded. And prices will continue to get higher, following that steadily rising curve that applies to all great commodities. Contrary to popular belief, however, there is no single player in the art world today who can move a market; it's too diffuse and widespread.
One of the few cogent things Grant observed in his newsletter was that a Cézanne will never have a value of zero and nor, for that matter, will a Warhol, Gerhard Richter or Sigmar Polke. The list of enduring artists for whom there will always be a niche market grows with each passing week, while there are plenty of telecommunications and e-commerce behemoths that will fade sooner than you can raise an auction paddle.
Why such acute interest in art now? Well, you only have to factor in another kind of interest, the low rates that render the lack of dividends or payouts for paintings less painful. Compared to stocks, which can swiftly go from scorching to frigid, investing in art looks cautious and logical. And there are studies on the potential for art to improve physical wellbeing and prolong life expectancy, as well as on its value as a tool for political purposes—a kind of soft power. I used to criticize artists for sucking the breath out of my mouth and for behaving as though they were curing cancer. Now it turns out they possibly might be, while resolving a few geopolitical conflicts in the process.
And new financial heft is emerging. The new partner for the latest iteration of the Shanghai Contemporary is the Centre of International Cultural Exchange, part of the Chinese Ministry of Culture. Just when you think art may be overbought, a whole new stream of support emerges.
In short, we have witnessed a head-on collision at the crossroads of art and economics. And where there's lots of money, there is, as much as it is bemoaned, glamour and celebrity, whether in the boardroom, trading pits and aisles of Sotheby's and Christie's, or on the pilgrimages to endless fairs, biennials and auctions. It's a fiery and volatile mix. When I started 25 years ago there were screw-off wine tops and a motley bunch with low expectations of what constituted passable hygiene.
Below is a series of mini case studies, a group portrait of the darlings of the present contemporary art marketplace. Will they be here today, gone tomorrow? Hard to say.
— Mark Grotjahn: (b. 1968) Of 110 works that have come to auction since his first piece sold in 2006 for $19,200, the dizzying record stands today at $6,510,000 for his piece Untitled which went under the hammer at the Leonardo di Caprio 11th Hour charity sale in May 2013 at Christie's.
— Sterling Ruby: (b. 1972) With 72 works coming to auction since 2007 and a first sale price of $6,000, his record is $1,785,000, achieved at the same Christie's sale last May.
— Tauba Auerbach: (b. 1981) Out of 42 works sold at auction since 2010, when one piece achieved $17,500, her record is $775,000 in 2013.
— Ryan Sullivan (b. 1983) Six works have come to sale since 2012, the first at a whopping $95,241, while his record stands at $141,472 a year later. Even before the opening of his next solo exhibition in London there is a waiting list of potential punters that exceeds 300.
— The Bruce High Quality Foundation, a collective formed around 2001 consisting of group of anonymous members. Of 17 works to appear at auction since 2012, their record is $281,007 in 2013. (I am not sure how significant 'quality' is to their production process, so watch out.)
— Oscar Murillo: (b. 1988) Five works came to auction earlier this year (yes, 2013) for $37,500 and his prices soared to $389,199 one month later. And to think, he's all of 27. At this torrid pace, by the time he is 30 years old he should be attaining price levels of $24,000,000 (or…not).
Now, I have been wrong in the past, but the most notable instance was when I underestimated an artist's potential for market growth. In 2006, I predicted the beginning of the end of the upwards-zooming market for Christopher Wool (b. 1955), who famously painted the letters FOOL in a rectangular grid. In fact, Wool's turned out to be the perfect art world story of ascent: Fool sold for $420,000 in 1999, $5,010,500 in 2010, and then for $7,708,267 in 2012, his record today. The three Fools that have come up for sale are the same size, differing versions. Imagine, there's more than one. So—who is the real fool? Please don't answer.
But I have been involved in the art game for a long time, and am expecting at least three more years at these price levels and higher. Mark my words, come November in New York and the next spate of major contemporary auctions, you will see vast heights scaled.
That everyone seems to be jumping on the art bandwagon, which has expanded to the point of being globally recognized and embraced from Qatar to the 'Stans and beyond, has turned the game into a slightly scary, social climbers' contact sport. But as even Graham and Dodd would begrudgingly acknowledge, the fundamentals are there: low interest rates, shaky financial markets and banks, commodity and metals mayhem, sovereign insolvencies. Still, what better place to plunk down a dollar than on a Picasso—or a classic Porsche, for that matter?
Christie's is shortly mounting its online only sale, First Open: New Media. The Warhol estate has followed suit and so too has Saatchi, who is selling a portion of his Middle Eastern contemporary collection through an online auction house, The Auction Room. Then there are the websites Paddle 8, Artnet, Art Space, Showroom and so forth. With art-as-asset all the rage, and most of it being transacted via JPEGs, then 'collected' and stored, why not abandon the art altogether and just issue certificates or something to that effect? Call it post-Visual Visual Art.
However, an unsettling aspect of this new delivery development, which is only now rearing its head, is what I term the 'New Undercover Auctions'. There have been internet auctions with no recorded pricing history, and there are slated to be even more. This concept of not revealing pricing information utterly contradicts the notion of transparency that makes auctions the premier and ideal trading platform.
Frightening, but an enticing paradigm shift as the art world goes further underground into a hole of secrecy, morphing into a full-fledged asset class/tax haven/currency substitute. You are assumed to be a criminal if you flash your cash nowadays, which is pretty much the way HSBC treats you if you walk in with a wad of notes. It's a slightly different scenario if you pull up outside Christie's in your Rolls with a Rothko under your arm.
As under-the-table inheritance transfers to the final resting place for undeclared money (Picassos come in all sizes, all of high value), the art market continues to mushroom. The danger is that art will spiral deeper into an area predisposed to manipulation thanks to a historically lax regulatory environment. With the art universe exponentially expanding, we are left with a bigger field to plough, one that is ripe (and getting riper) for tremendous change, both good and bad.
When it comes to short-term art trading, my advice is never to stand in the way of a wave—and we are approaching one of tidal proportions.