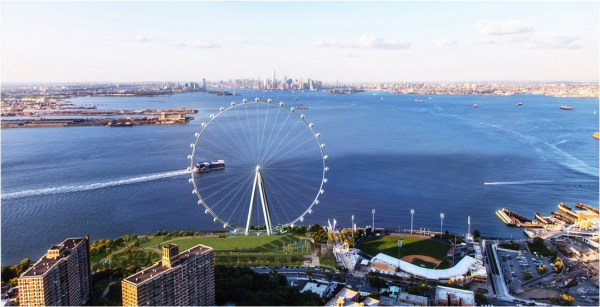 While most development plans are forced to go around and around and around, re-tooling and tweaking until they've been beaten into some ULURP-ified shape that everyone can live with, it's been one easy ride for the New York Wheel. Apparently everyone (well, not everyone—Marty Markowitz hates the idea of anything outshining the Wonder Wheel), loves the idea of an enormous Ferris wheel in the forgotten borough.
The City Planning Commission approved the New York Wheel in all its 625-foot-high glory today, also giving its nod to the SHoP-designed Empire Outlets, the retail component of the project being development by BFC Partners that will anchor the gargantuan carnival ride with more than 350,000 square feet of retail space and a 200-room hotel adjacent to the St. George ferry terminal.
"We're pleased with the Commission's decision and are confident that the Wheel will keep turning through the approval process,"  Rich Marin, CEO of New York Wheel LLC, said in a statement about the approval. "It has been gratifying to see the support of EDC, City Planning, the Design Commission, the Borough President and the community as they all come together to add this iconic landmark to the Gateway to America on New York Harbor. "
The approval means that the plan to build the world's tallest Ferris wheel (even if building the tallest Ferris wheel is like building the tallest skyscraper—a briefly held honor) will come before the City Council at the end of October. The plan already has the support of Mayor Bloomberg, the community board and outgoing Staten Island borough president James Molinaro. Councilmember and likely incoming borough president James Oddo has also voiced approval for the plan, telling the Staten Island Advance earlier that it had a chance to "become really iconic."
When it comes to popularity, huge Ferris wheels with attached outlet malls are the anti-luxury condo!
And, while Staten Island ferry riders won't have to venture far from the boat to enjoy the ride, in the future at least a few of them will at least be venturing slightly beyond the ferry terminal. We're not sure if the development will do much to further the forgotten borough's goals of revitalizing its downtown, but at least now Staten Island will have a better chance of inducing visitors to actually set foot on the island.