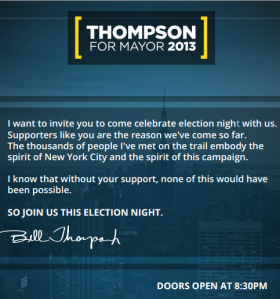 Last Saturday night, the Supersuckers, the self-proclaimed "Greatest Rock 'n' Roll Band in the World," jammed at The Bell House, a Brooklyn concert hall, along with DJ Bubba Guitar and Hellbound Glory.
Tonight, at the same spot, it'll be Bill de Blasio.
The various campaigns for mayor are getting ready to party down after the polls close at 9 p.m., and while Mr. de Blasio–the front-runner in the Democratic primary–seems likely to have the most to celebrate tonight, the other candidates are also planning events.
Unlike Mr. de Blasio, all of the other major candidates will be in Manhattan, and many of the mayoral hopefuls have booked hotels.
Bill Thompson, who is competing with Christine Quinn for a slot in the possible Democratic runoff contest, will hold a ballroom celebration at the Eventi Hotel in Chelsea, according to an invitation sent to supporters. Republicans Joe Lhota and John Catsimatidis, locked in a fierce battle of their own, will be at The Roosevelt Hotel and the New York Hilton Midtown respectively. (Ms. Quinn's schedule is embargoed.)
Two Democrats have scheduled restaurant parties. John Liu will be at the Grand Harmony Restaurant in Manhattan's Chinatown, where he is expected to perform well electorally. Anthony Weiner is expected to conclude his high-profile candidacy at Connolly's Pub & Restaurant, which purports to be "the best Irish pub New York has to offer."
Over in the comptroller's race is another restaurant celebration: Manhattan Borough President Scott Stringer will be at Slate in the Flatiron District.
Meanwhile, ex-Gov. Eliot Spitzer has scheduled his own event at MIST Harlem, which like Mr. de Blasio's location, is also a music venue. "Clean, Affordable, Nice Atmosphere, Grown & Sexy Crowd," notes the top review on YELP for the spot. "One Word: CLASSY!" declared another.