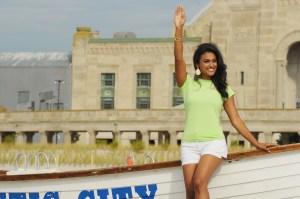 Last night we saw just how easy it is to be racist in 140 characters or less.
As New York native, Nina Davuluri, was crowned Miss America the Twitterverse spewed uncontrollably awful comments.
Apparently offended by her Indian heritage, users called her a Muslim, a terrorist and decided that she was therefore, totally unworthy of the giant sparkly tiara.
https://twitter.com/pizzo_nick/status/379445737135693824
Others wanted to see the blond, tattooed, gun totin' Miss Kansas Theresa Vail win instead. At least she made it to the last 10 contestants.
https://twitter.com/Jennlyn/status/379439588164390913
But so far Ms. Davuluri, 24, has brushed the racism aside in favor of furthering her STEM platform. After all, she's been the subject of controversy before: She was accused of calling January's winner and another former Miss New York, Mallory Hagan, fat.
But let's not forget, a lot of people were also pretty okay, dare we say excited, about the new Miss America.
Good job, that half of Twitter!