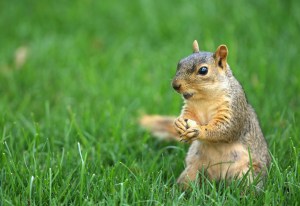 Something nutty's going on at Yale.
For some reason, reports that the school has exterminated their native population of squirrels are not being quashed.
It all began yesterday, when a "distressed senior" sent an anonymous tip to Gawker claiming that "the administration paid to have all the squirrels on campus killed over the summer," before ending ominously: "There are no squirrels left at Yale."
Now, all it would take for this unsubstantiated claim to be dispelled is for Yale to simply deny the allegation—something it has yet to do.
The university has been unavailable for comment, as has the New Haven's Parks Department (trust us, we've been calling). And if that wasn't weird enough, students who spoke to the Huffington Post confirmed that, indeed, there were no squirrels on campus.
"I haven't really seen them," student Leah Motzkin said. "Despite their normal menacing of students, we're definitely starting to miss them."
It's unclear whether or not the mass cull would be illegal, since regular squirrels are not protected and Yale owns the land, but the alleged activity would probably cause concern among students and animal rights groups alike.
"Sometimes, I'm just shocked at the things I hear," Sandra Defeo, executive director of the New York Humane Society, said. "I'm absolutely flabbergasted by what's legal."
That's if Yale really carried out the extermination. If it didn't, its press department better kick into action soon. This story's running around the Internet faster than a bunch of squirrels running away from a team of hired exterminators.
Update 9/11/13 – Thomas Conroy, Yale University's Press Secretary gave us this statement this morning: "Yale University has no squirrel extermination program and has not tried to reduce the squirrel population on campus." So there you have it.