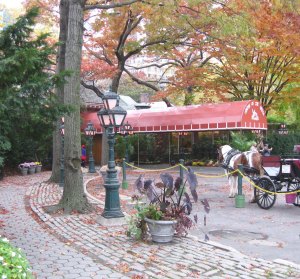 New York diners are famously fickle. We wait in tortuous lines for a Ramen or Umami burger, only to boast that neither is as good as Shake Shack. Frozen s'mo res, pig roasts, beet and goat cheese ice cream? While our constant quest for the new makes for a lively dining scene, it also forces restaurants to adapt or die before you can say "omakase". That can mean a chef swap, a menu revamp, a gut renovation or a shift toward "accessibility", because isn't that the major trend right now? Here's how three New York restaurants are giving themselves a redo this year. — Dana Drori
Tavern on the Green 
Celebrations abounded at the old Tavern on the Green, but the much beloved—and derided—cotton candy color scheme, crystal chandeliers and floral everything won't be back when the restaurant plans to reopen in December. Shuttered since 2009, the high-stakes venue is finally getting a modern rehab from its new owners, Jim Caiola and David Salama, of the Philadelphia-based Emerald Green Group.
"I think New Yorkers were feeling sort of alienated, unless they were having a bar mitzvah," said Mr. Caiola of the old iteration. With its smaller size — from 31,000 to 11,000 sq ft — and New American fare, Mr. Caiola hopes to make the new eatery more accessible. Chef Katy Sparks will run the kitchen, using local ingredients. And yes, the Tavern will still have a glass-enclosed section as part of its dining area, but one that looks more like an Apple store than the famed Crystal Room, which the late Werner LeRoy added in 1976. The sparer design (because it can only be sparer, really), will consist of neutral tones tones and materials to give the restaurant a more natural look, as well as mirrors reflecting the windows, letting the surrounding view into the restaurant.
"We're really trying to make it one with the park," Mr. Caiola said. We'll hora to that.
Maxwell's Plum
You may never have partied at Maxwell's Plum, but if your mom was hip in the 70's, she probably did. And she did it alongside Warren Beatty, Cary Grant and Barbara Streisand.  For almost 20 years, The Plum put Le Bain, Bungalow 8, The Beatrice (and any other trendy place you might have frequented) to shame. However, when the late owner Warner LeRoy closed it in 1988, he told the Times, "It's an awful lot of work to keep it new."
Now, his daughter Jennifer Oz LeRoy — who managed her father's other restaurants, Tavern on the Green and The Russian Tea Room, after his death—is about to bring Maxwell's to a whole new generation. After contemplating a restaurant venture for some time, she says, "It suddenly hit me. Maxwell's Plum. Why wouldn't we reinvent that?"
One might argue that the bright purple décor, and the abundance of chandeliers and ceramic animals that defined Maxwell's could seem a bit outlandish in a more minimalist era. Jennifer LeRoy admits that Maxwell's Plum 2.0 will be slightly "softer" than her father's version. She does intend, however, to uphold Warner's taste for the extravagant by using some of the original venue's Art Deco pieces, and a new installation that pays homage to the original's Tiffany stained-glass ceilings. "We have to have the ceilings," she insists. "That's what Maxwell's Plum is so famous for!"
Details are still under wraps, but Maxwell's redux will open downtown. It will include an a la carte dining space (with indoor and outdoor seating) and a large-scale banquet facility. Each room will aim to seat 300—"a LeRoy size," the 34-year-old proprietor says.
Certainly big enough for a Bar Mitzvah.
LeRoy fille hopes to open April 8th, 2014, 48 years to the day after the original Maxwell's Plum opened. But she admits that she can't guarantee it. "Definitely 2014," she promises. "It will be a good year for the Le Roy legacy." Pictures of LeRoy's mom – who met Warner LeRoy at Maxwell's – in her most swinging 70's attire will be used to help promote the restaurant. Cheers to keeping it all in the family.
The Rainbow Room
Culinary accessibility has been as trendy as cronuts in 2013, but it seems that fine-dining will soon have its revival: the Rainbow Room recently announced its reopening in the fall of next year.
Shuttered in 2009 due to the economic downturn, the Rainbow Room was the apogee of extravagance. A meal for two at the iconic Midtown spot could cost well into the high-triple-digits. And with the immense renovations planned for the new incarnation, including the addition of an outdoor terrace, Rainbow Redux will boast the same kind of opulence as before, recession be damned.
"Guests will really have an opportunity to experience the grandeur of being on the 65th floor of Rockerfeller Center," says Keith Douglas, Managing Director of Sales & Marketing for the esteemed venue. The restaurant promises to be open to the public at least two days a week, complete with live entertainment. The bar and lounge, which will house the new terrace, will be open five days a week.
In 2012, The Rainbow Room and its sumptuous features — the domed ceiling, crystal chandeliers, brass railings, and rotating dance floor — received landmark status. "Those are all going to be restored beyond their original glory," Mr. Douglas promised. With the restorations in place, he hopes that the venue will step back into its role as a New York destination for both locals and tourists alike.
Although the chef and management are not yet decided, Mr. Douglas revealed, "we're planning on doing an amazing Sunday brunch." Pancakes with views of the Empire State building? That's far better than cronuts.
The River Cafe
Not all restaurants renovate by choice. When Hurricane Sandy tore through New York last fall, The River Café — a beloved DUMBO landmark — was hit hard. Everything, from the insulation to the Steinway piano, was destroyed. Since then, owner Michael "Buzzy" O'Keeffe has been rebuilding the world-famous restaurant, dipping into his own funds in addition to the insurance, to cover the costs.  "If I didn't have money saved for a rainy day," he said. "I might be in trouble."
The changes are mostly architectural. "We've made it hurricane-proof," Mr. O'Keeffe promises. That process has involved replacing the wet and vulnerable parts of the restaurant's framework with more resilient material, including waterproof insulation, cement boards, and lifted electrical wiring. Mr. O'Keeffe is extremely hands on — prior to this interview, the restaurateur was in the middle of showing his construction workers the correct way to shellac a wall.
But there are other, more exciting changes too. The kitchen has been redesigned for extra efficiency and the fully-restored terrace room will soon start serving traditional American breakfast, with staples like eggs, pancakes, and oatmeal. O'Keeffe is also expanding the restaurant's pastry area and turning the chef's office into a chocolate room, which will be set at ideal temperatures for making chocolate year-round.
Due to fluctuating construction, Mr. O'Keeffe has decidedly not set a reopening date. He does, however, intend to commemorate the one-year anniversary of Sandy at the newly rebuilt venue.
The glittering view of Manhattan — the main draw for the River Cafe — is timeless. Let's hope that the restaurant is also here to stay.