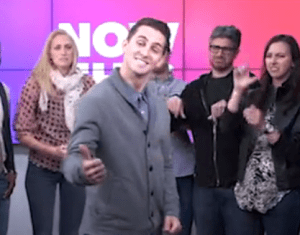 Those who still scoff at the idea of Vine as an influential app, here's a little more proof that the six-second video-sharing service is not only entertaining, but profitable.
Video news service NowThis News has hired West Palm Beach, Fla., native Cody Johns as their first official Vine VJ, their managing editor, Katharine Zaleski, confirmed today. And, yes, he's getting paid for it.
NowThis News has worked with guest VJs in the past, including Vine celebs Comedian Chris, DRose and Robhby Ayala, as well as Senator John McCain and Miss America. The account has 58,000 followers and counting, Ms. Zaleski said, and they cover everything from international politics to iPhone releases.
Mr. Johns, who turns 24 next month, will post a few times a week and whenever there is breaking news, Ms. Zaleski said. NowThis News hired him after they'd worked with him before and felt he was a great fit for their audience.
"Cody can talk about college football in one Vine and then move on to ask people about Syria in another," she said. "He already has an incredibly engaged audience on Vine that also follows NowThis News."
True, Mr. Johns has amassed 856,700 followers and counting by creating goofy six-second videos. His brother, Marcus Johns, is no slouch when it comes to the app–he's got 2.7 million followers.
It's possible other Vine celebs could be hired by NowThis News, which is the first video news network on Vine, Ms. Zaleski said. "Vine is so new and such a fascinating place to build a news network on that I wouldn't count anything out at this time."
This is just the latest initiative through which people are making money on Vine–entrepreneur Gary Vaynerchuk and Vine celeb Jerome Jarre started a Vine talent agency through which influential Vine account holders are paid to create ads for companies like General Electric.