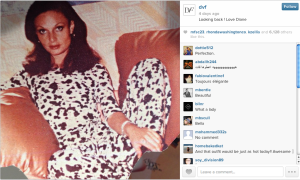 Your selfies may be alienating loved ones and acquaintances, but according to the New York Times, Instagram users' activity may actually influence real-life fashion designers.
It's not so much that designers are crafting hot-dog-leg pants or building entire collections to look like they're being seen through the Rise filter. Rather, they're using Insta as a way to keep up with which aesthetics the masses are digging these days, and even–in the case of no less a designer than Marc Jacobs–crowd-sourcing jewelry designs from time to time.
The story name-checks couturiers like Nanette Lepore and Jason Wu, both of whom attest that the medium provides them with visual inspiration. Blogger Susie Bubble is also quoted as saying her own off-the-cuff Instagram posts have ended up on designers' inspiration boards. Designer Wes Gordon calls Instagram, "a nice glimpse into someone's world that's real and not too affected." Clearly the people he follows aren't as into moodily-lit shots of Starbucks cups set against the same old NYC skyline as our friends are.
But fashion's hip aunt Diane von Furstenburg, an avid Instagrammer, doesn't appear to give a toss about her followers' fashion advice.The Times noticed that under a photo of some flowers on her Instagram account, followers suggested she use the photo as inspiration for a print. When asked if she would consider it, she is quoted simply as saying, "It's possible."
You can't blame the inventor of the wrap dress for taking the opinions of a cross-section of the smartphone-owning proletariat with a grain of salt.