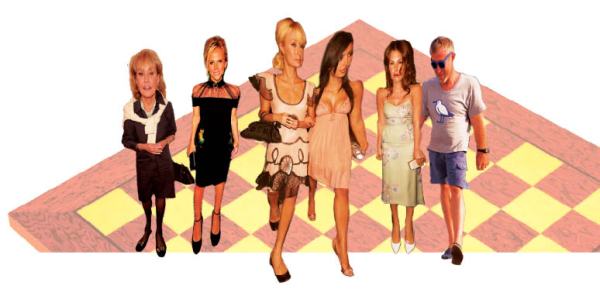 The stupidest question I ever asked was at a dinner party at a rambling summerhouse in East Hampton.
We were seated at a long, white-washed barnwood table with matching Louis XV salon chairs—an expensive take on "shabby chic" that was underscored by the jacketed household staff who could be glimpsed through the kitchen door. Surrounding me was a collection of wealthy guests, accompanied by their youthful second or third wives, who seemed to treat "buy low, sell high" not just as a business mantra, but also marriage advice.
Our hostess was discussing a recent society divorce and how it was a pity that nobody saw the woman anymore, because everyone liked her more than him.
"So why don't you hang out with her instead of the husband?" I asked, and I swear I saw the butler wince.
"Well," she replied patiently. "Out here, the friends go with the money."
It was a stark lesson in "friend shui"—the shameless art of arranging personal relationships for maximum benefit. A more Zen interpretation of friend shui is possible. The 2003 book Feng Shui Your Life proposes "cutting the cord" with "energy vampires" who radiate negativity. Even Urban Dictionary defines "friend shui" as the "practice of clearing your life of any friends who cause extra cludder [sic] or drama." Those understandings may resonate on the West Coast, where spirituality is as deep as a spray tan. Here in New York, however, social relationships are all about ramping up.
Sure, one might call that social climbing. But in the city, the idea that such friendships are transactional is almost too obvious to mention. It would be like asking why billionaires have such attractive girlfriends.
"I don't know any other place that has the social ambition that exists here in New York," says David Patrick Columbia, who for 20 years has published New York Social Diary, a kind of Standard & Poor's index for the Exceptional & Rich.
"It's all about money, because, if you don't have the money, you can't do it," he says. "Everything is an exchange here, and it's taken for granted."
Done blatantly, it can be fun to watch.
Barbara Walters is infamous for moving place cards at fancy events to sit next to the most influential person. One exasperated gala planner told me she watched helplessly as the ABC personality bumped the guest of honor (and the evening's major donor) from his seat so she could sit next to Hillary Clinton.
Another fellow I know has done so well that he could teach social climbing to Rapunzel's boyfriend. Five years ago, he was a fashion intern and coke buddy to the shiny set. Now he can't look you in the eye at a party, because, as he explained while gazing distantly over my shoulder in a darkened downtown loft, "I have to watch the door for Dasha."
That would be Dasha Zhukova, the art world impresario, AAA-list international socialite and partner of Russian billionaire Roman Abramovich.
IT'S HARD TO FIND THAT KIND of naked social ambition likable, but, as a New Yorker, you have to respect success. It helps that in this city shamelessness is regarded as a kind of work ethic.
Scandals that would induce social rigor mortis in a more respectable town are merely résumé items here—for the job of mayor, for example, or city comptroller—because infamy brings with it that other great social commodity: publicity.
"The Paris Hilton syndrome has taken over," says Mr. Columbia, who remembers photographing Ms. Hilton when she was an underage 14-year-old in nightclubs.
"Now, it's about getting attention. People really want to be photographed all the time. They want their name out there. It's a little private fantasy they have that they'll become a big deal."
Sometimes, it works spectacularly. Kim Kardashian friend-shuied her way into the spotlight as Ms. Hilton's one-time BFF. And gossip columns thrive on stories of jealousy tearing apart socialite pals once inseparable on the photo pages.
Mr. Columbia complains that he is often asked to take down pictures of people who no longer want to be seen together. "A complete, total pain in the ass," he mutters. "I tell people, 'If you don't want your picture taken, then stay away from the camera!'"
Few people understand the intersection of ambition and media better than R. Couri Hay. A society publicist and columnist, he is available to wealthy clients who feel that their social connections are lagging behind their financial clout.
"I represent private individuals at my own discretion," Mr. Hay, who has been a social fixer since his days running with the Warhol crowd, says. "We have packages: Do you want to be in T magazine? Do you want the social press? It can go from $5,000 a month to $25,000."
"I love addicting young people to P.R.," he tells me, as we sit in his comfortable West 81st Street townhouse, moments before an assistant presents him with an afternoon juice cleanse. "But press, at a certain level, is worse than cocaine. There's never enough; they always want more. It's a drug."
Not every story has a Cinderella ending. In recent years, aspiring socialite Melissa Berkelhammer became a cautionary tale about the dangers of being hoisted by your own P.R.
A Harvard Law graduate who left a job at Skadden Arps for the allure of the social circuit, she acquired a reputation for using sharp elbows to get into party pictures. The invitations and photo-ops dried up but not before she articulated her own friend shui manifesto in a 2006 interview with this newspaper.
"A lot of people [are] involved in charities, involved in fashion companies and do P.R. for stores, different stores, and then you become friends with them, you know, and then they invite you, and then, like, maybe a friend of a friend sees you and then puts you on their list," Ms. Berkelhammer said about the wonderful mystery of being invited to parties, not mentioning that her father had placed Mr. Hay on retainer. She added cheerfully, "Sometimes, you're on people's list, and you don't know why."
The interview was not well-received, and Mr. Hay counsels a less aggressive strategy.
"When you are in the social world or the philanthropic world, it has to be done tastefully," he says, forming his fingertips into a pyramid behind his desk. "You don't want to come in like a bulldozer, especially in the social world."
A MORE SUBTLE APPROACH is to start buying tables at benefits and work your way up from charity committees to the grand institutional boards. But even the social mountaineers who reach those heights are faced with a problem: The very attainability of such lofty positions makes them hard to keep. In a city where the old dynasties have been unseated, social mobility works both ways.
"There really is no old society in New York," Mr. Columbia says. "Money is always what determines who's who, and now it comes and it goes very quickly."
"The Astor fortune, which ended with Brooke Astor—that was a six-generation family," he adds. "The Steve Schwarzman fortune—that's a one-generation family, and he gave enough money that they changed the name of the New York Public Library to the Stephen A. Schwarzman Building. The right way to do it is to give big money."
But if you haven't yet made your billions in private equity, you can start the journey by looking pretty in a sun frock.
"For the current generation of thin, very ambitious girls, Tory Burch is the gold standard," Mr. Hay says. "She became an icon and a trendsetter, and everyone wants to be like her."
And for only a few thousand dollars per month, Mr. Hay can friend-shui the introductions to start you on your way.