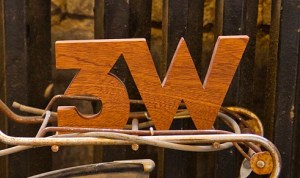 For seven years, 3rd Ward has been a beacon to Brooklyn's creative set, offering classes for artists in almost every major field. We've heard rumblings for awhile that the institution had recently begun to fire its employees and hire them back at minimum wage, or cut their hours down to part time, but with two new outposts (The Culinary Incubator and its Philadelphia location) opening, how bad could things be?
Turns out, pretty bad: Two days ago students, residents and employees alike were stunned after showing up to the Bushwick studios only to find the gates drawn and the doors shuttered. 3rd Ward had shut down, and now its official.

From a letter sent out today to members:
Dear members,

It is with heavy hearts that we are emailing you today to let you know that after seven wonderful years of serving our community, 3rd Ward is closing its doors.

When we opened in 2006, our vision was to create a shared space for our community of artists and entrepreneurs to have a place to work, learn, network and thrive. We're proud to have been able to do that for as long as we did. Yet, with the costs of running and operating our space, we are sadly no longer able to remain in business.

That said, it is our priority to make sure that our members are able to collect their belongings before our doors officially close on October 11th. We will have open hours from 10am-6pm on this Thursday and Friday, and next week on Monday and Tuesday for you to pick up any of your materials. Additionally, we will be open from 9am-1pm this coming Saturday, and 12pm-4pm this coming Sunday to permit you to pick up any of your materials.

Unfortunately, you will not have an opportunity to use your membership after today at 6pm, and we will not be able to refund any payments made for membership services that have not been fully utilized before that time.

If you have any questions, please feel free to contact us at help@3rdward.com. As we are operating with limited staff, please be aware that we will answer your email as quickly as possible, but your patience is appreciated.

All the best,

3rd Ward
Obviously this is a pretty shitty scenario for anyone who has bought a year long membership to 3rd Ward–finding out they won't be compensated, via email, no less–but at least you can all get your stuff? We feel particularly bad for residents who are currently out of town…hopefully you all have friends who can pick your stuff up for you.