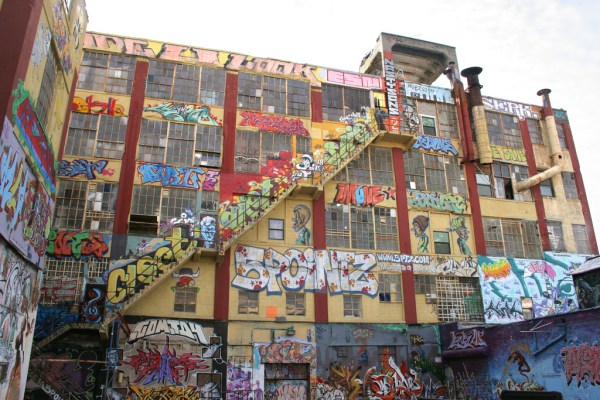 For a spray paint-wielding band of graffitists, the Queens street art collective 5Pointz certainly has an impressive nose for obscure legal code. In a frantic effort to remain in their Long Island City warehouse, last week the artists filed a suit in Federal Court against the owner of the warehouse, G&M Realty, citing a violation of the Visual Artists Rights Act of 1990 (VARA), a rarely-invoked bulwark against the faulty attribution and unauthorized alteration of some types of visual art.
But it's unclear if even 5Pointz believes that VARA will protect them in the long term from G&M's plan, which was approved last Wednesday by the City Council, to destroy the warehouse and build a pair of luxury apartment towers in its place. Rather than a legal reprieve, it seems what 5Pointz is really after is a temporary restraining order that would give them enough time to raise funds to buy the property and turn it into a permanent gallery.
When we spoke with her by phone, Jeannine Chanes, one of two lawyers representing 5Pointz, acknowledged that her clients hope to reach an accord with G&M, whereby they might acquire the building at market value. Still, Ms. Chanes was optimistic about her chances: "I didn't get involved in this case to lose it," she said. "I like David and Goliath kinds of cases."
VARA, which took effect in 1991 and has seen only limited testing, guarantees certain visual artists "the right to claim or disclaim authorship in a work; limited rights to prevent distortion, mutilation, or modification of a work; and the right, under some circumstances, to prevent destruction of a work that is incorporated into a building," according to the U.S. Copyright Office.
5Pointz is, of course, banking on the last provision.
For roughly twenty years, the Wolkoff family, which owns G&M, has allowed 5Pointz artists to use the warehouse—free of charge—as a kind of freestanding canvas. The building's walls are vibrantly adorned with personal tags, murals, and other aerosol ephemera, which would be destroyed with the structure's razing. But it's not clear that VARA applies to 5Pointz constituents and their craft, or, even if it does, whether the court is likely to hand down a decision that hamstrings property owners in similar circumstances.
Thomas F. Cotter, a professor at the University of Minnesota Law School who specializes in intellectual property issues, told The Observer that as an art form, graffiti as such likely qualifies for protection under VARA. That 5Pointz has no written agreement with the Wolkoffs specifying that its artwork might be subject "to destruction, distortion, mutilation, or other modification, by reason of its removal," likewise suggests that VARA ought to apply, Mr. Cotter said. He noted, however, that extending VARA protections to 5Pointz would seem to leave the Wolkoffs with no practical legal means of tearing down their own warehouse, which, he said, "wouldn't make a great deal of sense."
(Lest property owners be alarmed at the prospect of being embroiled in legal action by local vandals, the VARA clause at issue applies only to instances in which art has been installed in a building with prior owner consent.)
In order to garner protection under VARA, a work must be of "recognized stature," a designation that lends itself to considerable interpretation, and Mr. Cotter speculated that the court might disqualify the images at 5Pointz headquarters on the grounds that they do not meet the standard. The walls in question have been repainted repeatedly over the years by many different artists, some of whose contributions have doubtless been altered without permission, are altogether undocumented, or both. These conditions suggest that 5Pointz artists never had any expectation that their additions to the building would be permanent, which, Mr. Cotter said, might further encourage the court to find that their work falls outside VARA guidelines.
"In other countries with more friendly artists' rights laws, there is usually some accommodation made to the owners of buildings in recognition of their need to remove or modify [artistic installations,]" he said. "My guess would be that [the court] will seek a solution along those lines."
Such a solution, of course, would not bode well for 5Pointz's longevity, and Ms. Chanes allowed that Mr. Cotter's hunch might be right. "There's no bright-line test," she said. "'Recognized stature' is malleable."
She pointed out, though, that VARA does not require protected works to have been created with an expectation of permanence. Watercolor paintings, after all, can bleed away in the rain, and paper's inevitable deterioration has long been the scourge of archivists and curators. A work's ultimate impermanence, Ms. Chanes insisted, makes it no less deserving of protection.
If the case goes to trial, Ms. Chanes intends to marshal expert testimony to establish the stature of 5Pointz artistry, which has attracted considerable laudatory media attention both at home and abroad. In an apparent effort to apprise the court in advance of her clients' artistic ability, she included numerous full color photographs of 5Pointz paintings in the complaint. "These guys are professional artists," she told us. "We're not talking about someone who's spray painted 'Killroy was here' on the side of a building."