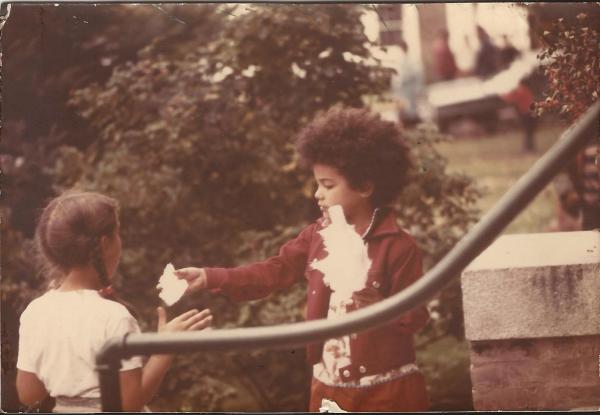 So hey. Afros. You may have seen them on black people in America … for the past 300 years or so. The nifty thing about Afros is that black hair actually grows like that—into Afros. Not kidding. It's pretty much how black hair grows. As opposed to say, straightened hair, a pixie cut, a bob, a weave, the Dorothy Hamill, the Rachel, or what have you. There are lengths and shapes and variations on an Afro, sure, but the Afro itself is not really a style or necessarily a means of self-expression.

But good looking out, New York Times—way to get right out front in 2013 on the Afro as a "Natural Expression of Self" and "an emblem of style's cutting edge." And more over, for bringing to light that "the Afro today seems friendly enough, even downright disarming" to qualify as news that's fit to print in The New York Times.
Listen, I know The New York Times is busy saving itself from itself. I know the whole Internet thing has them in a bit of a kerfuffle, the buyouts have messed with morale, and that Jill Abramson is trying to get her lean-in on point. But honestly, this: "Though it has become increasingly popular, especially in hipster enclaves like Brooklyn, the Afro has yet to claim the status of a widespread trend."
What are you even talking about? What is a "hipster enclave" in Brooklyn? Do you mean the predominantly white Williamsburg, where this black writer happens to live (and has had a very hard time finding a place to maintain my Afro)? Does Fort Greene or Bushwick or Bed-Stuy qualify as a hipster enclave? Because I'm pretty sure that the black folks who live in those neighborhoods, and there are and historically have been a lot of black folks who live in those neighborhoods, have been rocking Afros before yesterday. Also, newsflash: the term "hipster enclave" jumped the shark about three years ago.
I'm also genuinely curious about the factchecking behind "the genesis some 50 years ago" of the Afro. Wait, there's a genesis to the Afro? I think what you mean, Ruth LaFerla, is that there was a genesis to accepted social commentary and reportage on the Afro. Which is a little different. Not that there can't be a genesis to the Afro in your world, New York Times, because clearly, your world has magical nuanced insights, like how the fashion industry is not all that accommodating to natural black hair, because the hair is separate from the black model, toward whom the fashion industry is super accommodating. But thank heavens that Rick Owens and Marc Jacobs are embracing the Afro, because that's going to change the game entirely. Oh, and also, there's this line of black hair products called Carol's Daughter. It launched in 1993.
Rebecca Carroll is the Managing Editor at The Aesthete.