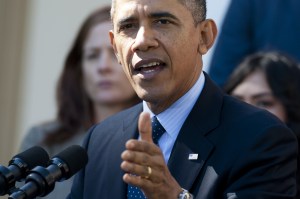 As a frequent world traveler, I've had occasion to seek medical treatment in Croatia, Australia, the Philippines, Singapore, and France. I was always treated right away, treated well, and handed surprisingly low bills. Why can't we get it right? These experiences as well as my "liberal" leanings, make me an unabashed supporter of the Affordable Healthcare Act.
So it pains me to report my frustration in trying to sign up for health coverage under the new provisions.
I've tried five times, by logging into the website and by talking to representatives. Each time I sign up, I'm stymied by a new absurdity. At one point, I was told that everyone but my wife was eligible for coverage, though she's an American citizen. Another time, I was told that my immigration papers couldn't be verified. Immigration? I was born in New York. Do New Yorkers need green cards now? Another time, my six-year-old somehow became the primary applicant. At least she earns nothing, so maybe that will lower my costs.
"Something's not right," the representative told me when the computer listed my daughter, Naomi, as the responsible applicant, before giving up and telling me to try again later. On top of that, I've had to enter my information anew each time I've applied (though supposedly my information is saved from session to session), in each case wasting an hour or more of my time. And the representatives I've spoken with seem to have been trained by Elmer Fudd or Mr. Magoo. They can't even read their prepared scripts, don't know the difference between optional information and required information, and seem hopelessly baffled by the system.
When I posted an observation to this effect on my Facebook page, my like-minded friends shared similar stories of dysfunction:
"Yikes!" replied one friend, before continuing, "I haven't even gotten to this level of dysfunction yet. I can't get on line – I did talk to a rep. (lots of reading time while she stared at the computer screen for me) – and she was nice, but I think stymied by the changes made from one day to another. So far, I have an account and an application, and a message from Healthcare.gov that I cannot retrieve. I've tried changing my password but it won't let me. … I don't see how they can possibly fine people who have not signed up with a system like this. I'm trying – but I don't have one hundred solid hours to give over to this. And this is true of everyone trying to sign up. I'm pretty angry too."
Another friend: "I got through the whole thing but the screen with my 'eligibility results' came up blank which gave me an uncomfortable feeling. The rep I spoke to assured me that my information was in the system even though she couldn't see it because their system was down. She asked if I wanted to give her the information again (even though "it's in the system") and when I asked what would be the point of that, she said: I don't know."
Another: "Missouri claims I do not exist."
And still another: "I'm apparently not a US citizen and my toddler makes a rumored $5000 a month, but otherwise…"
If I believed in conspiracy theories, I'd think that Ted Cruz was employing hundreds of Republican moles to destroy the system from within. But thus far, none of the live (technically speaking) representatives I've connected with have started reading Green Eggs and Ham to me as part of their script, so I'm convinced they're sincere in their befuddlement.
In reporting my frustrations, I'm loath to become the poster child for those intractable foes of "Obamacare" who might point to me and say, "Look, even the lily-livered liberals hate it!" As one of my similarly frustrated friends commented, "the goal is huge," and it's one in which I still believe. Another, less sanguine, says she's healthy now, but might need meds by the time she finally logs on.
For now, I plan to wait a month before trying anew, and hope the website's kinks are worked out by then.
In the meantime, perhaps the administration should just farm out the website to people who can assuredly deliver, such as ChristianMingle.org or EHarmony.com. Anything to prevent Ted Cruz from having the last laugh.
Robin Hemley is the author of ten books and the recipient of many awards, including the Guggenheim Fellowship and three Pushcart Prizes in both fiction and nonfiction.