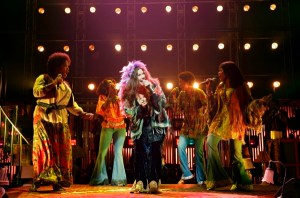 Oh, lord, won't you buy me a Mercedes-Benz, a color TV, a night on the town—or at least a Broadway musical about 20th-century popular music that isn't awful?
The latest entrant in that category is A Night with Janis Joplin, which opened Thursday night at the Lyceum Theatre. It stars a husky-voiced white soul singer named Mary Bridget Davies as the husky-voiced white soul singer of the title, and it features four sweet-voiced black soul singers as, variously, Etta James, the Chantels, Odetta, Bessie Smith, Nina Simone, Aretha Franklin, backup singers called the Joplinaires and characters named—really—Blues Woman and Blues Singer. (Kacee Clanton plays the Joplin role at some performances.) It also offers a rocking eight-man band, groovy costumes, a set strewn with dozens of lamps, for some reason, and a few bottles of Southern Comfort, and innumerable declarations of what the blues is. (Among them: "a good woman feeling bad," "a way out of where you are," "a feeling, a mood, sometimes the Devil himself" and, most curiously, something "Nina Simone and I found in the light in my beautiful sister's face.") Along the way, it tells you remarkably little about Janis Joplin.
It all sounds great; it is all otherwise incoherent. There are no book scenes, barely any biography, no drama or portraiture or acting. It is a tribute-band concert as performed by a singer/fan who keeps talking without having much to say, awkwardly interspersed with performances by the women who inspired her. Ms. Davies is an energetic performer—and the other singers (Taprena Michelle Augustine, de'Adre Aziza, Allison Blackwell and Nikki Kimbrough) are even stronger—but they are ill served by Randy Johnson's barely serviceable book and limp direction.
These are not good times for the song-catalog musical, which is sometimes but not always also a bioplay. We probably owe its recently repetitive popularity to the success of Smokey Joe's Café, which opened on Broadway in 1995 and ran for five years, and Jersey Boys, which marries a well-constructed biographical script to the Four Seasons catalog and has entered now-and-forever territory. It is also a resilient form, surviving Good Vibrations, the shapeless (though pulchritudinous) Beach Boys musical that is among the worst things I've ever seen on Broadway, and Million Dollar Quartet, which attempted to find dynamism in a photograph. For the last six months, though, we've seen a run of jukebox shows that either succeed (like Motown) or fail (like Let It Be and Soul Doctor) on the strength of their songs alone, without any attempt to build a real play around them.
And yet these shows keep coming, because they have those songs and because the people who buy Broadway tickets think they want to hear those songs. That's what A Night With Janis Joplin gives you, plus at least some nice choreography for the backup dancers (by Patricia Wilcox) and an ever-changing array of exuberant costumes (by Amy Clark). For that, however reluctantly, I'll give it just the tiniest little piece of my heart.
For better or for worse, nearly everything about postwar Judaism has been defined in reaction to, or debated in the shadow of, the Holocaust—observance, memory, obligation, ritual, intermarriage, Israel, everything. In Donald Margulies's The Model Apartment, first produced in New York at Primary Stages in 1995 and now in an emotionally rich and intense revival the same company opened at 59E59 Theaters last night, that same specter haunts a single family, leaving it scarred, suffocated and nearly destroyed. Read this way—one family as stand-in for post-Hitler Judaism—Mr. Margulies's play is an indictment, an imagined eventual result of allowing a religion to be defined by a tragedy (and intriguing companion to Joshua Harmon's Bad Jews, now at the Laura Pels, which has more comedy and less darkness in its dark comedy but sidles up to the same questions). In Evan Cabnet's direction, what transpires is shocking, yet also recognizable, and as such all the more harrowing.
Max (Mark Blum) and Lola (Kathryn Grody), Brooklynites with Mitteleuropean accents, have arrived at their Florida retirement condo to discover it unfinished and so instead are spending the night in a model apartment, where the pastels-and-rattan design is right-on—it's the 1980s—but everything is a facade, the appliances fake and the tchotchkes glued in place. (The set is by Lauren Helpern.) The couple seems warm but wary, and slowly we learn that they're survivors and that they've once again fled, this time leaving Brooklyn suddenly to get away from Debby, their obese, mentally disabled terror of a daughter. When Debby (Diane Davis) arrives, trailed by her homeless boyfriend, Neil (Hubert Point-du Jour), things turn surreal.
As Debby spins fantasies about her own, imagined time in the camps and as Lola waxes poetic about her close youthful friendship with Anne Frank, it becomes increasingly unclear whose version can be trusted. Debby is disturbed, clearly, and ill, but there's an increasingly uncomfortable realization that her parents' fixation on their past may have planted a seed in her damaged psyche that made things much, much worse. Debby has become a new captor of her parents, but her parents may have helped create the very thing that now oppresses them.
There is comedy, too, in Mr. Margulies's play and some occasional warmth among his characters but ultimately a lot of bleakness. It is hard for that Holocaust generation to find peace, The Model Apartment argues, but it might be even harder to come after it.
Particularly for a rock star's wife, Trudie Styler isn't much to look at. This is not a kind thing to say, but, then, she is no doubt the reason the Culture Project is producing an adaptation of The Seagull, which opened Oct. 3 at what's now called the Lynn Redgrave Theater. This Seagull, transplanted from provincial Russia in the late 19th century to provincial Ireland in the same period, stars Ms. Styler, who is better known as Mrs. Sting and who sits on the board of the Culture Project, in the lead role that is usually called Arkadina and here called Isobel. Arkadina/Isobel is to be a great and glamorous stage star; that Ms. Styler is both plain and wooden doesn't commend her to the part.
But, then, the whole production feels off. Thomas Kilroy's adaptation, created for London's Royal Court Theatre in 1981, isn't the problem. The relocation doesn't particularly change the play; despite occasional references to Irish historical figures and events, the decaying Irish gentry is largely indistinguishable from the decaying Russian gentry (though it is a nice touch to make the indecipherable avant-garde play by Isobel's son, Constantine, played by Slate Holmgren, about ancient Celtic culture). The problem is that the play is directed by Max Stafford-Clark, who commissioned this version when he ran the Royal Court, as almost a farce. None of the seriousness seems particularly serious, and none of the drama seems particularly dramatic; everything seems either deadpan or hysterical. It is tonally very, very odd.
Within this comedic structure, the nicely deadpan performances by Rachel Spencer Hewitt, in the ingénue role here called Lily and usually called Nina, and Amanda Quaid, as an April Ludgate-like estate manager's daughter, stand out. But it's hard for a comedic-dramatic Seagull to be very effective—indeed, this Seagull can feel a bit like a poor attempt at Christopher Durang's Vanya and Sonia and Masha and Spike, which is a genuine Chekhov-spoof comedy. This is not an unentertaining evening, but it's not a particularly interesting one.