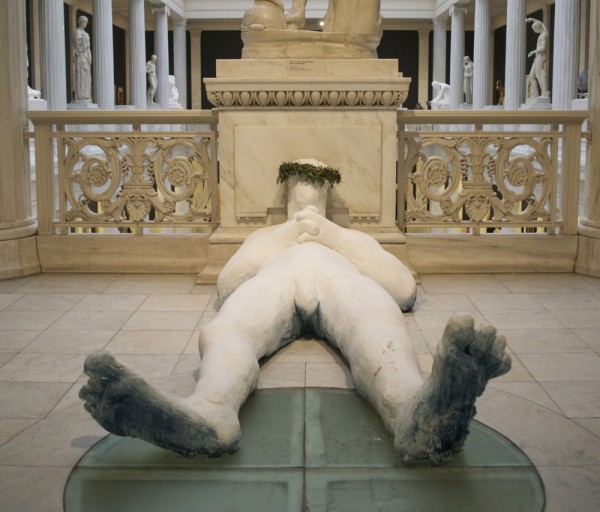 The more time I spent this past weekend at Pittsburgh's Carnegie International, the major survey of contemporary art that the Carnegie Museum of Art started in 1896 and now organizes every four or five years, the more I envied the people of the Steel City, who get to have it at their doorstep for the next five months. This year's edition is generally superb: focused, considered and perfectly scaled.
The artist list skews more toward emerging names than in past editions. Of the 35 artists included, almost half were born in the 1970s or later, and none are veterans of recent Internationals. While the majority of these names (and even some of the works) will be familiar to devoted gallery-goers, only three or four of the artists are extremely high-profile, and among the 320 artworks are some genuine surprises.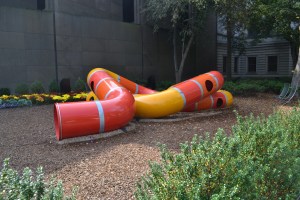 Organizers Daniel Baumann, Daniel Byers and Tina Kukielski have eschewed both the excesses of the curatorial-industrial complex and the big-money market for work that is intelligent, nuanced and often unashamedly beautiful. They mention pleasure in the excellent catalogue. Their show, involved with history but not in thrall to it, reconsiders what big international festival-style exhibitions can do.
(View photos from the exhibition.)
The first sign that something unusual is afoot comes before you even enter the museum. A Lozziwurm, a tubular playground with red, orange and yellow components, designed by Swiss artist Ivan Pestalozzi in 1972, sits on the Carnegie's lawn. It's open to children and links with "The Playground Project," an exhibition within the International, organized by Gabriela Burkhalter, about the history of 20th-century playgrounds with models by Niki de Saint Phalle, Isamu Noguchi and other artists and architects. "Play is generous," Mr. Baumann writes in a catalogue essay, explaining that the curators took the playground as an inspiration. "It encourages a freedom to invent, change, subvert and establish rules."
That may sound like curatorial hyperbole, but the exhibition bears it out: Playfulness permeates this show, as in a rehanging of the Carnegie's remarkable collection that emphasizes pieces acquired from previous Internationals, with new works sprinkled among them. One room has, from the 1985 and 1988 shows, huge paintings by that love-them-or-hate-them trinity: Georg Baselitz, Sigmar Polke and Gerhard Richter. A wall label mentions heroism, but the curators have gamely slipped in a charming hour-long music video (comprised of nothing but hand-drawn text and electronic pop music) by New Yorker Sadie Benning, a reminder that subtle, quirky queer artists can be just as heroic as macho, brooding Germans.
In the collection galleries, you'll also find a massive new painting-installation-cum-sculpture by Phyllida Barlow that, uncannily, shares a palette with the de Kooning, Woman VI (1953) that hangs alongside it, and the sharp angles of a 1980 Ken Price cup in the next room. Ms. Barlow, who will turn 70 next year, is the second-oldest living artist in the show and is clearly in her prime. She has also built a long wall of poles and colored ribbons that brushes aside Richard Serra's towering metal sculpture Carnegie as it plows from the street into the museum. The Barlow piece is a fitting metaphor for the show, which favors art that brings the stuff of life into its galleries.
Midcareer Philadelphia photographer Zoe Strauss exemplifies that approach. For the past few months, she has set up shop in nearby Homestead, once the site of a gargantuan Carnegie steel plant, photographing its residents. A few hundred of her portraits hang in groups along one hallway.
Portraiture recurs throughout the International. It takes a more haunting tone in the black-and-white photos of lesbians that won South African Zanele Muholi the Carnegie's Fine Prize for emerging artists. She terms her work "visual activism" in the face of entrenched homophobia. (She's the show's only artist working in Africa: about half of the artists hail from the U.S., Canada and Western Europe, which feels like too large a percentage.) It's bittersweet in many of Joel Sternfeld's 29 images of people in utopian communities, some functioning, some lost, from a South Dakota Hutterite area to an East Village community garden threatened by real estate interests.
This notion of home—finding it, making it, understanding it, fighting for it—is also in works like Israeli Yael Bartana's Summer Camp (2007), a humorously propagandistic film about Israelis who rebuild demolished Palestinian homes as civil disobedience, and Indian Amar Kanwar's show-stopping Scene of Crime (2011) video, which tells the story of a murder by pairing fragmentary text with long, tranquil scenes of areas in India's Odisha state that residents and governmental and corporate forces are now tussling over.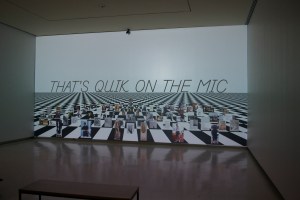 The show's film and video pieces are uniformly strong: two short and characteristically hypnotic Mark Leckey works involving, respectively, a Jeff Koons bunny sculpture and a snare drum have a disembodied vision that aligns nicely with that of helicopter that Ei Arakawa employs in his new collaborative video with Henning Bohl, a delirious sci-fi romp through Japanese postwar playgrounds that involves, yes, helicopter parenting. (Sadly, the reliably brilliant Mr. Arakawa was ill and unable to stage his accompanying performance piece on Saturday.)
And then there's Frances Stark's new video installation, which pairs her inimitable stream-of-consciousness text animations with two DJ Quik tracks and an ingenious printed backdrop of photos of gangster rappers taken by a childhood friend, Old Master paintings and more. It's by turns hilarious and enrapturing, at once cunning cultural critique and self-indictment. The more time you spend with it, the sadder and more startling it becomes. It should have won this year's Carnegie Prize.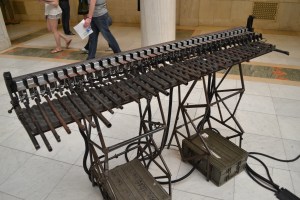 You come to these shows for moments like that—to see great artists really going for it—and so one of my only real complaints is that there aren't enough of them. Pedro Reyes provides one with a computer-controlled percussion ensemble that he has fashioned from various guns. It all sounds obnoxiously didactic until the foreboding music starts up. Brazilian Erika Verzutti provides another, with a full room of handcrafted totems and organic little abstractions made with eggshells and bronze, stone and wax. And score one more for Wade Guyton, who has been tucked away in unusual corners of the museum. He has installed an epic four-panel flame painting in a room open for only an hour each day and four of his recent barely ink-jetted ink-jets in a disused coatroom with two worn, frat-style leather sofas from his studio.
But in place of hyper-ambitious new works, there are welcome miniature surveys of artists like Nicole Eisenman, whose 19 rich, bawdy paintings dating from the past two decades, which run the perimeter of the museum's Hall of Sculpture, confirm her as one of today's great figurative painters and earned her a well-deserved Carnegie Prize. There's also a sustained look at the career of oddball Croatian Mladen Stilinović, whose playful work unites humor with deadly serious politics. "An artist who cannot speak English is no artist," reads a banner from 1992.
We also get 11 of Vincent Fecteau's papier-mâché sculptures from the past 10 years, Möbius-strips-meeting-Möbius-strips confections that tickle the mind. They're in one of the few rooms in which curators have chanced close and unlikely juxtapositions. The Fecteaus are displayed near paintings of Soviet Bloc-era women modeling sweater patterns by Paulina Olowska (whose café installation is not to be missed), a vitrine of ceramics by George E. Ohr (1857–1918), the so-called "Mad Potter of Biloxi" (assembled by Frenchman Pierre Leguillon) and 57 wild portraits and faintly Charles Burchfield-esque landscape drawings by the outsider Midwesterner Joseph Yoakum (1890-1972). This section amounts to a sophisticated fugue on notions of insider and outsider, art and craft, and the ways in which culture, high and low, are transmitted and digested over time. (The other outsider here, also seamlessly integrated into the show, is the late Chinese autodidact Guo Fengyi, whose 10 bright, compulsively built-up drawings on cloth and rice paper suggest she deserves a proper museum retrospective.)
There are misfires here, but only a few of them: Taryn Simon peddles her usual overly produced obviousness in an exhaustive photographic cataloguing of actresses, cars and props from the James Bond series. Lara Favaretto has a few minor works that offer up her reliably bland nth-generation post-minimalist trivialities: confetti cubes slowly falling apart, industrial metal forms on silk inexplicably laid out in a room of Impressionist painting. He An's wall pieces of appropriated anonymous retail signage feel thin, visually and conceptually.
In their catalog essay, the curators write that they "are convinced that art makes life better." They've backed up that faith with a long-running engagement with their city and their institution: a two-year-long series of events at an offsite apartment, dive-bar debates, artists working in children's programs at the museum and an art-lending service that the local collective Transformazium has installed at the Braddock Carnegie Library, about 15 minutes away, complete with works by International artists.
I suspect that some will find these ideas, and the show's themes, a touch too earnest. But I'm smitten. And the International does have its darker moments, such as when Mr. Kanwar abruptly cuts from his lush, meditative scenes of Indian forests and rivers to a bit of grainy found footage filled with a gunfight in those same environs, shattering his magic. In Dinh Q. Lê's Light and Belief (2012) documentary, a Vietnamese artist who depicted comrades in the war speaks glowingly of "Uncle Ho"—that's Ho Chi Minh—and his art credentials, of his belief that "artists are also warriors."
Artists, in the view of the International, are agents of change, whether converting instruments of death into plain instruments, like Mr. Reyes, or just horsing around with schoolchildren to produce an electric and bewildering video installation, like Tobias Madison. Mr. Madison calls the work a "playground for your mind," which is a phrase that one might apply to all artworks that deeply engage us on the level of empathy.