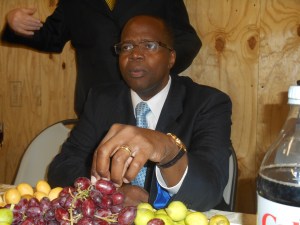 Republican ex-Senator Al D'Amato has found another Thompson to support in this year's election cycle: Ken Thompson, the Democratic nominee for Brooklyn district attorney.
Mr. D'Amato, who was a leading fund-raiser for Bill Thompson's failed mayoral bid, contributed several thousand dollars to Mr. Thompson's campaign as he faced off in the primary against incumbent District Attorney Charles Hynes.
After initially conceding the race after losing to Mr. Thompson, Mr. Hynes is continuing to campaign on the Republican and Conservative Party lines, infuriating many Democrats.
The former senator donated $6,000 to Mr. Thompson from June thorough August, according to state campaign finance records. His daughter-in-law, Amy D'Amato, gave Mr. Thompson another $5,000, while his brother, Armand, threw in $250, the records show. (The splurge doesn't compare to the tens of thousands Mr. D'Amato bundled for Bill Thompson.)
"Ken Thompson is a talented prosecutor who is extremely well-qualified and will make a tremendous District Attorney," Mr. D'Amato wrote in a brief email to Politicker in response to a request for comment.
Reached for a response, Jerry Schmetterer, Mr. Hynes's spokesman, hinted Mr. Thompson was hypocritical for criticizing Mr. Hynes's decision to run on the Republican line while taking Republican contributions. He also continued to hit Mr. Thompson for allegedly allowing convicted ex-party boss Clarence Norman to steer his campaign–a charge Mr. Thompson has flatly denied, but that Mr. Hynes has nevertheless made the central cause of his post-primary bid.
"It's as hypocritical as raving about corruption in the DA's office and using a convicted corrupt political boss Clarence Norman to run his campaign," Mr. Schmetterer said via email.
But the Thompson camp insisted that any comparison between receiving contributions from select Republicans and Mr. Hynes's decision to run on the Republican line was a "false equivalence."
"Ken Thompson is proud of the growing support he's receiving from Democrats, Republicans and Independents all across Brooklyn who are looking for change," said James Freedland, a spokesman for Mr. Thompson. "No false equivalence will change the fact that Republican Joe Hynes has broken his word to the voters to base a campaign on lies so that he can run with Joe Lhota and the Tea Party in another failed attempt to stay in power."
Additional reporting by Colin Campbell.