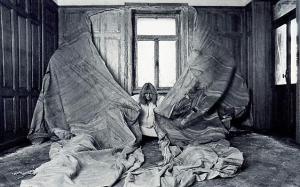 It's been a big week for artist-representation news here in New York, with each day bringing confirmation of new partnerships between dealers and artists or their estates. Today, Alexander Gray Associates announced it will now work with the estate of Heidi Bucher (1926–1993), the Swiss artist who is perhaps best known for sculptures that doubled as wearable clothing or inhabitable environments.
Here are more details from the gallery's news release:
Bucher, born in Winterthur, Switzerland, explored the effects of transformation on the body and architectural space in her work. She attended the School for the Applied Arts in Zurich under the teaching of artists Johannes Itten and Max Bill, and began her career making textile collages. Her most well-known artworks are her sculptural objects produced in the 1970s and early 1980s. These works are deeply concerned with feminine, domestic, and private spaces, as well as bodily and collective experiences.
Gray's first show of her work will open in April.